With an array of positive benefits to the body and mind, millions of people are choosing yoga as their pre-ferred form of exercise. Thankfully, a selection of reputable studios can be found in most major cities – Oxford included! In this article, we explore the best yoga hotspots in Oxford. When attending a new class, it's a good idea to go equipped with the right clothes. A good-quality sports bra will ensure optimal support. For a comfortable option, we recommend the Ana Heart Yoga Bra.
YogaVenue
Located in the heart of Oxford, YogaVenue is one of the most popular studios in the city. Offering over 40 classes per week, the studio has something for yogis of all sorts. Hatha, Bikram, Power Flow, Forrest, Re-storative, Vinyasa, and Yin Yoga are just some of the styles they teach. Being just a ten-minute walk from the city centre, YogaVenue is especially popular amongst urban professionals.
The establishment was created to provide a space for practitioners to improve and enjoy their craft. Classes at YogaVenue are tailored to different abilities. Novices can begin with some simple stretches at a beginner's session, while experienced yogis can challenge themselves with something more complex. The building itself has two separate rooms, one of which is equipped with a bespoke heating system. This room is ideal for Hot Vinyasa Flow or Bikram classes, maintaining the space at an optimal 45 degrees. Encouraging the body to sweat, hot classes are ideal for burning calories and cleansing your system. Thankfully, YogaVenue has on-site changing facilities with showers for both men and women – ideal for rinsing off in after a heated session.
Location: 2 Avenue Ln, Oxford OX4 1YF. Time: Various sessions available. Price: Various.
Prana Yoga
Located on the Oxford riverside, Prana Yoga boasts a serene atmosphere. Just a few minutes away from the city centre, locals can remove themselves from the hustle and bustle and find time to relax. The studio offers a range of classes, with hot sessions being one of the most popular. Offering a variety of Bikram classes, Prana Yoga is one of the only studios in Oxford to offer the traditional hot style.
The popular Bikram classes include a set series of postures with two different breathing exercises. The posture series consists of 26 Hatha asanas. These simple poses are designed to strengthen and stretch the muscles. Alongside the asanas, two different breathing exercises will be introduced, too.
When performed correctly, the twenty-six-posture series is designed to target each of the body's key muscle groups. When carried out in the suggested order, each asana is thought to strengthen and stretch the muscles, ligaments, and joints needed for the next posture. A well-heated room allows the muscles to fully relax, meaning that they are able to stretch further without injury. With the ability to stretch further during each posture, hot yoga helps to increase muscle strength, flexibility, and also build up fitness levels and stamina, too. The heat also helps the body to detoxify. As toxins leave through the pores, the increased blood circulation means fresh oxygen can easily be supplied to cells throughout the body. In turn, this encourages new cell production. If you're interested in sweating out those toxins with a hot session, visit the Prana Yoga website to book a class.
Location: 7 South Street, Oxford, OX2 0BE. Time: Various sessions available. Price: Drop-in £14.00.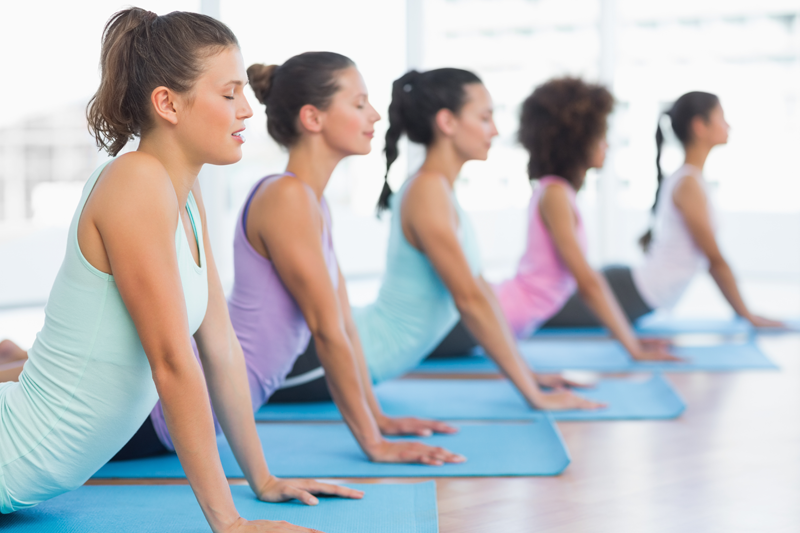 Ashtanga Yoga Oxford
Arguably the best Ashtanga studio in the city, Ashtanga Yoga Oxford teaches the traditional style. With KPJAYI authorised teachers, Manu and Bella Rossi, students can enjoy perfecting their form knowing they are in safe hands. Ashtanga Oxford welcomes practitioners of all abilities – even complete beginners! Describing their classes as a 'moving meditation practice', the dynamic style can be adapted to suit different abilities.
Ashtanga asanas are best performed in its correct sequential order. When carried out correctly, the process is thought to help practitioners discover their true potential – not just in yoga, but in all levels of consciousness. Sessions at Ashtanga Oxford also combine the practice of deep breathing known and Ujjayi Pranayama. This allows time for students to focus on their senses, encouraging each person to form a deeper awareness of their own being.
More advanced classes will also incorporate other areas of the Ashtanga practice. The word Ashtanga literally translates to 'eight limbs,' which sums up the eight different areas of the practice perfectly. The eight areas are best described as Yama (meaning abstinences), Niyama (meaning observances), Asana (meaning postures), Pranayama (meaning breath control), Pratyahara (meaning sense withdrawal), Dharana (meaning concentration), Dhyana (meaning meditation), and Samadhi (meaning contemplation). Beginners will only focus on the key aspects of the practice first, though. These are normally considered to be Pranayama and Asana. Once students have mastered the basic techniques, Ashtanga Oxford will help them to develop the other areas, too – if they so wish.
Location: Ashtanga Yoga Oxford. Time: Various sessions available. Price: Various.
AcroYoga International
With workshops taking place all around the UK, AcroYoga International sessions are popular in Oxford. Offering specialist workshops to teach to unique craft of AcroYoga, the company are seen as being one of the best in business.
AcroYoga is best described as a mixture of acrobatics, yoga, and healing arts. Boasting an array of physical and mental health benefits, the practice focusses on strength building, improved concentration, and overall stress relief. Typically, the practice consists of three main roles – the base, the flyer, and the spotter. The person taking on the role of the base will support the flyer in air-based positions, while the spotter will stand back and constructively critique their form.
While the practice has similar benefits to standard yoga, it also helps to form new relationships. It doesn't take long for partners to realise that the postures cannot be completed without both parties being fully engaged, making each individual realise how much they need the other. Promoting deep-self love and increasing empathy, the practice of AcroYoga can lead to life-long friendships. For those interested in the unique form of yoga, book yourself into one of the AcroYoga Internation Workshops.
Location: Oxford. Time: Various sessions available. Price: Various.
Whether you're hoping to squeeze in a quick class in your lunch break, or you're more interested in winding down before hitting the sack, the selection of studios above has something for practitioners of all sorts. Although some classes may provide equipment, picking up your own yoga mat can be handy. For a good-quality option, we recommend the Ana Heart Yoga Mat.