Whether you're a busy city worker, a full-time parent, or even a well-deserved retiree, everyone needs time to relax and rejuvenate. Thankfully, yoga can provide you with just that. With numerous benefits to both your mental and physical health, yoga is fast becoming the exercise of choice amongst those looking for a less strenuous activity. In this article, we explore some of the best yoga hotspots in Brighton. When attending a new class, it's important to go equipped with the right gear. Throwing on an extra layer before leaving the house will ensure that your muscles are warm when the class begins; for a good quality solution, we recommend the Ana Heart long-sleeved top.
Brighton Buddhist Centre
Established in 1974, Brighton Buddhist Centre offers a wide range of yoga classes and courses. With highly experienced instructors, the centre guarantees you will receive 'great tuition in the real spirit of yoga'. Each session takes place in one of the centre's shrine rooms; boasting a lovely atmosphere, the shrine rooms are the ideal location to relax and recharge.
The centre offers 4 different styles of the alternative therapy: Hatha, Iyengar, Vajrasati and Embodied Yoga Principles. They recommend that beginners try a few different drop-in classes to discover which styles and teachers suit them best. The centre employs 6 regular instructors, all of which are qualified, insured, and experienced. An array of testimonials and more information on the teachers can be found via their website.
Each class is available on a drop-in basis, so there is no need to book in advance. Arriving 15 minutes before the start of a session is advisable; this will allow you time to pay at reception, get changed, and meet your teacher before the class begins. The Buddhist centre advises you to wear comfortable clothing that allows you to move freely – a flexible pair of yoga pants will be ideal. Although the studio is heated, coming equipped with an extra layer will keep you cosy during relaxation time at the end of the class. The centre provides a range of equipment including yoga mats, yoga blocks, yoga belts, and even cushions, so all you need to bring is yourself!
Location: 17 Tichborne Street, Brighton, BN1 1UR. Time: Various sessions available. Price: Drop-in £9.00.
Yoga Haven
With reputable studios in Brighton, London, and Birmingham, Yoga Haven is popular in the UK. Offering an array of different classes, the studio has something for yogis of all sorts. Yoga Haven believes that yoga should be magical and fun; with that in mind, they offer classes in a unique style called 'Leela'. Meaning 'play' in Sanskrit, Leela classes are ideal for those who seek some lighthearted fun. Students of all abilities are welcome at the Yoga Haven sessions. Complete beginners can build their confidence with some basic stretches, while more experienced practitioners can challenge themselves with something more complex.
One of the most popular sessions at the Brighton studio is 'Foundations of Yoga'. The Iyengar inspired class focusses on building the foundations of the practice. While the session is ideal for beginners, students of all abilities can better their practice by exploring asanas in greater detail. Helping to improve self-awareness, the class encourages practitioners to create space for a stronger and more flexible body. Additionally, students can learn how to balance both their physical and emotional energy. By holding each asana for an extended period of time, individuals can refine their movement and create stability.
Yoga Haven prides themselves on helping their students to feel safe and comfortable on the mat. The main goal of the dedicated teaching staff is to ensure you have a positive experience in each of the sessions. To join the welcoming community, book yourself in for a session at Yoga Haven.
Location: Kendal House, Brunswick St. East, Hove, BN3 1AW. Time: Various sessions available. Price: Vari-ous.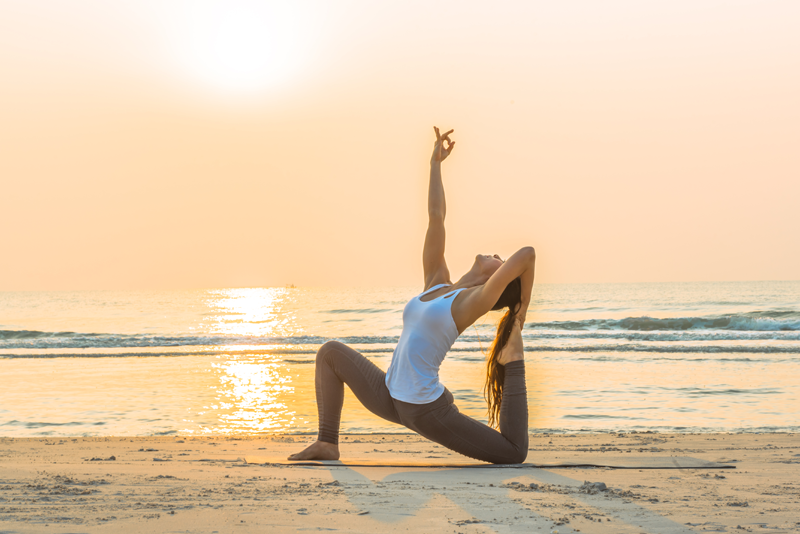 Hot Yoga South
Hot Yoga South is one of the most popular hot yoga studios in Brighton. While most of the classes focus on the traditional Bikram style, the studio also offers Childrens' Yoga and Rajashree's Pregnancy Yoga, both of which are tailored to the individual needs of the class.
The standard classes include a set series of postures with two different breathing exercises. The posture series consists of 26 Hatha asanas. These simple poses are designed to strengthen and stretch the muscles. Alongside the asanas, two different breathing exercises will be introduced, too.
When performed correctly, the twenty-six postures series is designed to target each of the body's key muscle groups. When carried out in the suggested order, each asana is thought to strengthen and stretch the muscles, ligaments, and joints needed for the next posture. A well-heated room allows the muscles to fully relax, meaning that they are able to stretch further without injury. With the ability to stretch further during each posture, hot yoga helps to increase muscle strength, flexibility, and also build up fitness levels and stamina, too. The heat also helps the body to detoxify. As toxins leave through the pores, the increased blood circulation means fresh oxygen can easily be supplied to cells throughout the body. In turn, this encourages new cell production. If you're interested in the benefits of the Bikram style, book yourself in for a session at Hot Yoga South.
Location: Olugbenga House, 26-28 Franklin Road, Portslade BN41 1AF. Time: Various sessions available. Price: Various options available.
Whether you're hoping to sweat out harmful toxins with a Bikram class or you're more interested in the unique style of Leela, our selection of studios above has something for everyone. Before attending a new class, it's worth picking up some flexible clothing. For a breathable solution, we recommend the Ana Heart Sweatpants.