After years of perfecting our brand, we are excited to announce that Ana Heart items are now available at John Lewis. Currently, the brand is available at three locations: Birmingham, Leeds, and Liverpool. While we aren't available in any London stores yet, you can expect to find us in the capital's John Lewis stores in the near future. You'll also be delighted to know that the range can also be purchased via the John Lewis website.
In this article, we explore a few of the key products that can be picked up from our newest stockist.
The Empowering Yoga Mat
An essential for any yogini, The Empowering Yoga Mat is now available at John Lewis. The soft mat ensures comfort throughout each asana, allowing you to enjoy your session with peace of mind. While some studios provide equipment, many individuals prefer to bring their own. Shared studio mats can not only be uncomfortable, but they can also harbor bacteria – especially in the cold, winter months. To minimise the risk of catching a nasty bug, many yoginis prefer to come equipped with their own mat. The Empowering Yoga Mat benefits from being lightweight, making it easy to transport to and from class. Most importantly, we understand that a great yoga mat should last for years to come; with this in mind, we have ensured that this high-quality yoga mat is durable enough to withstand years of intense practice.
The Urban Nomad Yoga Bag
Perfect for any yoga fanatic, The Urban Nomad Yoga Bag has a generous amount of storage for all your gear. Here in the UK, many of us opt to bring our own equipment to class. While this means we can enjoy the familiarity and comfort of our own gear, transporting it to and from each session can be annoying, to say the least – especially with a full-sized yoga mat in tow. Thankfully, this Ana Heart yoga bag boasts a pocket for your water bottle, a zipped pocket for your smartphone, and even a dedicated space for your mat! Better still, the bag is crafted from durable cotton, so you can rest assured that your accessories remain secure throughout your journey. Decorated with an all-over abstract print, this yoga must-have will allow you to carry your essentials while remaining on-trend.
Morrison Open Side T-Shirt, Charcoal
Practical yet effortlessly stylish, the Morrison Open Side T-Shirt will add a touch of glamour to any gym outfit. Crafted from stretchy cotton, the Morrison T-Shirt will allow you to enjoy unrestricted movement. Better still, the material is soft and breathable, allowing your body to oxygenate sufficiently throughout your yoga session. The foil graphic accented on the front adds a hint of prestige to the design, while the relaxed fit makes the piece practical and comfy. Available in a range of sizes, this Ana Heart T-Shirt is perfect for practitioners of all sorts. The raw cut open sides are ideal for showing off your favourite yoga bra, allowing you to turn up to your next yoga class looking chic and on-trend.
Oversized Hoodie, Pink
Part of our lifestyle collection, the Ana Heart Oversized Hoodie is a yoga wardrobe essential. Crafted from a soft cotton blend, this relaxed fit hoodie will keep you cosy in colder weather. To avoid the risk of injury, it's important to keep your muscles warm before beginning a yoga session. With the ability to stretch further without injury, turning up to class with warm muscles will ensure you get the most out of the session. This oversized hoodie is perfect to slip on over your gym gear before leaving the house, ensuring that you stay warm and snug on your journey to the studio. Equipped with large pouch pockets and an inspirational graphic print, wear the Ana Heart Oversized Hoodie for a modern look this winter.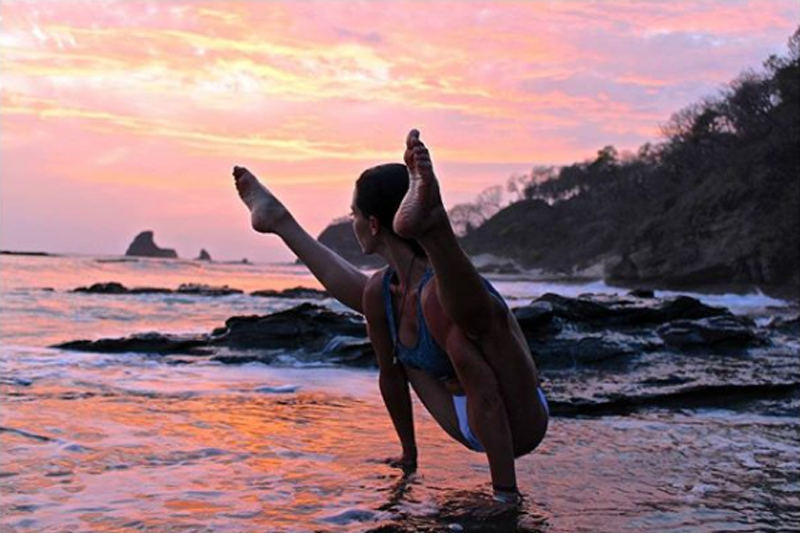 Brooklyn Printed Leggings
Ideal for those looking to add a little glamour to their yoga wardrobe, the Ana Heart Brooklyn Printed Leggings boast an all-over abstract print. A good-quality pair of yoga pants is an essential for any aspiring yogini. While a standard pair of sports pants may seem to do the job, dedicated yoga pants boast a range of great benefits. Firstly, they are super-stretchy. When you're in the middle of a complex asana, the last thing you want is to be restricted by your clothing. Good-quality yoga pants will stretch however far you do, without becoming uncomfortable.
Secondly, there are no zips or ties to get in the way. During yoga, zipped pockets and sizeable waist ties can dig into your skin and quickly become uncomfortable. The Ana Heart yoga leggings are free from any obtruding embellishments, allowing you to remain comfortable throughout your class.
Lastly, the Ana Heart yoga pants are crafted from durable fabric. Not only can you enjoy the clothing for years to come, but you can also rest assured that they won't become see-through overtime. Cheaper sports pants typically have a high lycra content, often making them appear see-through when you bend over. The high-quality fabric of the Brooklyn Leggings will allow you to practice in comfort with peace of mind.
Monroe Racer Bra, Dark Blue
Designed to provide maximum support during your workout, the Ana Heart Monroe Racer Bra is an essential for any yogini. Crafted from quick-dry fabric, this dark blue sports bra wicks away sweat to keep you cool and comfortable. The durable, stretch-finish material curves around your bust to provide comfortable support as you yoge. Better still, the soft fabric is chafe-resistant, allowing you to concentrate on your session without unnecessary discomfort. While a yoga bra can be worn underneath a top, many practitioners opt to minimise restrictions and sport just a yoga bra and pants. The Monroe Racer Bra is embellished with thin gold straps, providing a modern active look when paired with leggings.
Summary
Whether you're a yoga newbie hoping to start off with some great-quality gear, or you're an experienced practitioner looking to vamp up your yoga wardrobe, visit your local John Lewis store to purchase the Ana Heart collection. Ana Heart is currently available at three locations: Birmingham, Leeds, and Liverpool. If you can't get to any of these stores, though – don't worry! The full Ana Heart collection can be purchased online.