Sometimes when it all gets a little too much most of us want to escape somewhere and just reset our internal energy levels, find inner peace and block out the hectic fast-paced lives we leave behind. But that can be quite hard when you're doing it from a flat downtown or at home as there's so many other worldly distractions.
That's why so many of us board planes, trains and boats trying to find somewhere that lets us hit those levels of Buddhist zen that we can only dream about. Asia is somewhere I highly recommend as not only are there countless gorgeous locations that you can completely zone out in, but they have a lot of great locations that focus primarily on Yoga. So, you can realign your chakras, find inner peace and relax in a jaw dropping location whilst you wear your favourite pair of yoga leggings.
There are a lot of great resorts to try and each one has their own benefits to visiting them, so we've taken the time to come up with a list of the best of Asia's retreats for Yoga.
One World Retreats Ubud, Bali
Although it may at first appear to be a simple jungle paradise, this resort offers the best in world class yoga. They offer luxurious accommodation that comes with enough floorspace for you to place out your yoga mat and get in a few poses before you take part in one of their professional sessions set against the serene background of the Bali wilderness.
Absolute Sanctuary Thailand
Keeping up the serene relaxation of isolation we have the Absolute Sanctuary in Thailand. Located on the beautiful island of Koh Samui, this retreat offers a facility that not only is completely isolated but focuses entirely on relaxation and wellness of mind and body. Offering world class facilities, their team of in-house yoga teachers will take you through their routines to make you feel completely relaxed.
A great feature of this resort is that It's open to yoga beginners and veterans alike, all you need is a comfortable pair of yoga pants and you're set. With an unlimited number of classes to take you will quickly get to grips with basic flexibility and techniques that they will help you improve on day to day at your own pace. This is perfect for anyone that's looking to perfect a set technique or if you want to learn the right routine for you without accidently injuring yourself.
Fusion Mai Yoga Vietnam
When it comes to Asia's retreats for Yoga, the Fusion Mai resort is a place you want to put at the top of your list. Tucked away on the beautiful beaches of Vietnams east coast, this beach-based yoga resort is the perfect serene getaway. Here you can soak up some sun, bathe in the cool crystal-clear waters of the sea and practice your stretching on the white sandy shoreline.
Their facilities focus on helping you improve your yoga techniques in both group and solo sessions, so if you want to be alone on your trip or mingle with some like minded people you shouldn't have any problems here.
If you want to take a break from stretching on your yoga mat, then you can cycle out in the countryside surrounding the resort and enjoy the beautiful scenery surrounding the area or we recommend popping on a high-quality pair of yoga pants and just sprawling out on the beach for a while. Or pop in for an aromatherapy facial to compliment the rejuvenating effects of your yoga class and just enjoy the peace and quiet before you drift off to sleep in your luxury hotel room in the resort.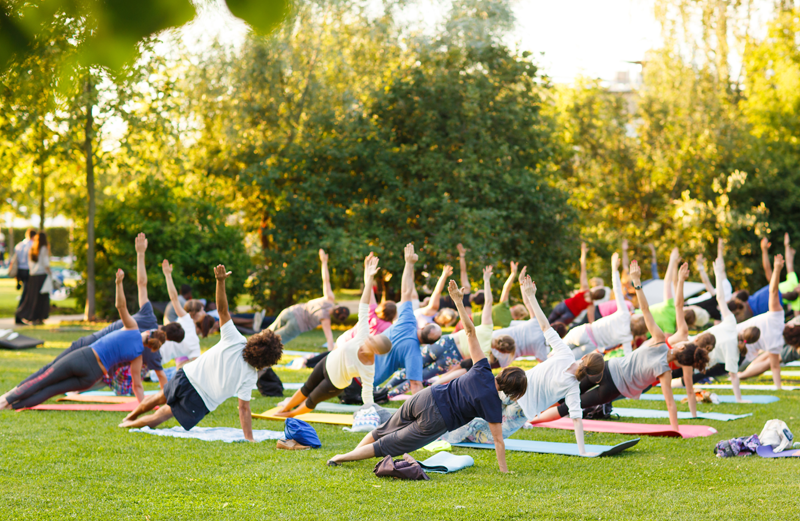 Ananda Yoga India
Set in arguably the birthplace of Yoga, this resort is situated in the Himalayas and offers a mixture of personalised Yoga experiences and classes for any level. To compliment your yoga routines, they also offer consultations on lifestyle and wellness, so you can continue to improve yourself long after your holiday has ended.
This luxury location also offers an onsite spa where you can choose from a massive 80 different holistic treatments which will relax and overall enhance your wellbeing. Just imagine performing a routine with a lot of strenuous stretching and bending, only to then feel the muscles and joints in your body absolutely melt with a massage or deep heat treatment in the resort.
Shreyas India
If tranquillity and peace are what you're after at the end of the day, then the Shreyas resort in India is the place to be. They offer a number of different yoga techniques from Nidra, Kriya and Trakata, so you can become the ultimate yogi before you go home. To go for the most relaxing evening why not wear a comfortable and high-quality yoga hoodie before going to visit one of their world class, award wining spas.
They even offer to boost your awareness of how Yoga came to be with trips into the countryside to local schools and farms as well as offering cooking classes to really immerse you in the culture of India.
In Summary
These are just a couple of the great locations you can visit in Asia that cater for people looking to enjoy a relaxing and tranquil yoga holiday. There are tons of other fantastic places to try but we recommend adding a few of the ones we mentioned to your list.
Also, before you go make sure you have the best yoga gear, try to bring a high-quality yoga bag with you as the last thing you want is to turn up to this high-class resort looking your worst.
Each of these resorts will give you the ultimate yoga experience that you've been longing for and you'll leave with an experience that you will never forget. So why not start planning your next trip to Asia now by checking out one of these beautiful resorts that we have covered here!