As with any sport or hobby when you're new to a practice such as yoga you want to be sure that you're doing it right. Your yoga teacher can play a huge part in this, both in terms of your ability to learn and progress and more importantly whether you will enjoy it or not, and enjoying the practice is key to ensure that you'll keep wanting to go back for more.
So what makes a good yoga teacher? This is a hard question to answer as different people will have different opinions on this, as yoga isn't something that has one rigid set of rules. However there are some key qualities that most agree make a good yoga teacher great and the best yoga practitioners are always mindful of these qualities.
In this article we look at the top ten qualities that make a good yoga teacher and discuss why these are important in making a yoga teacher great.
Presence
A great yoga teacher will command the attention of anyone in the room, they should be someone that students want to watch and learn from with every move that they make. This presence is important as it signifies to new students that they are in control of the room, can make anyone in class feel at ease and can even encourage you to push yourself even if you're not feeling it.
This is an almost intangible quality because it comes from a natural confidence and ability to hold a room. A yoga teacher with good presence will be able to maximise what they can get out of their students and raise their confidence so they look forward to class and attack it with enthusiasm.
Energy and Personality
Much like presence this is another intangible quality, but it is important that your yoga teacher has energy and personality. They should be someone that you feel you can engage with and create a meaningful connection with so that you can get the most out of your classes. This will mean different things for different people, some teachers will be funny and light hearted, others will relax and soothe you, while some may be stricter and more demanding.
The energy and personality you will appreciate from your yoga teacher will be in part down to personal preference, but you should look out for a teacher that makes you able to focus your energy, relax and be calm and who makes you want to go back to class again and again.
Ability to Connect
A good yoga teacher will make sure that everyone in their class feels comfortable, regardless of how big the class is. They will ensure that they interact with everyone on an individual basis and help each of those people feel welcome and help them to improve. A great yoga teacher will ensure that they are motivating and connecting with each of their students so that they are growing and improving in some way.
Love of Yoga
This might sound obvious, but you don't want a yoga teacher who only sees it as their job, you want a yoga teacher who really loves what they do. Yoga is after all about improving your mind, body and spirit, and if you have a teacher who is burned out, doesn't enjoy it, or is simply going through the motions, you won't get the most out of the class or yourself. However if your yoga teacher loves what they do they will bring that out in you too.
Love of Teaching
As well as loving yoga it's also important that your yoga instructor loves to teach. They should really get a kick out of seeing their students improve and be continuously looking for new ways to inspire them. It will also make them more enthusiastic about keeping up to date with everything related to yoga and they'll have a desire to pass this knowledge on to you. When you have a teacher that truly knows their area of expertise then you will undoubtedly benefit too.
Passion
Being passionate about what you do is especially important. If you have a teacher who is passionate they will be constantly looking for ways to improve their practice, which will in turn benefit you. It will also flow out of them during class and ignite a similar passion in their students. This passion is also unlikely to end with yoga, but also include health and wellness and yoga will be more than just a job, it will be their lifestyle.
Flexibility
This isn't about flexibility of the teacher's body, but about the yoga teacher's ability to adjust their classes and teaching to make it relevant to their students. While there should always be a plan, a good teacher will be ready to adapt if they have to, to ensure that everyone is able to enjoy the class and can benefit from it.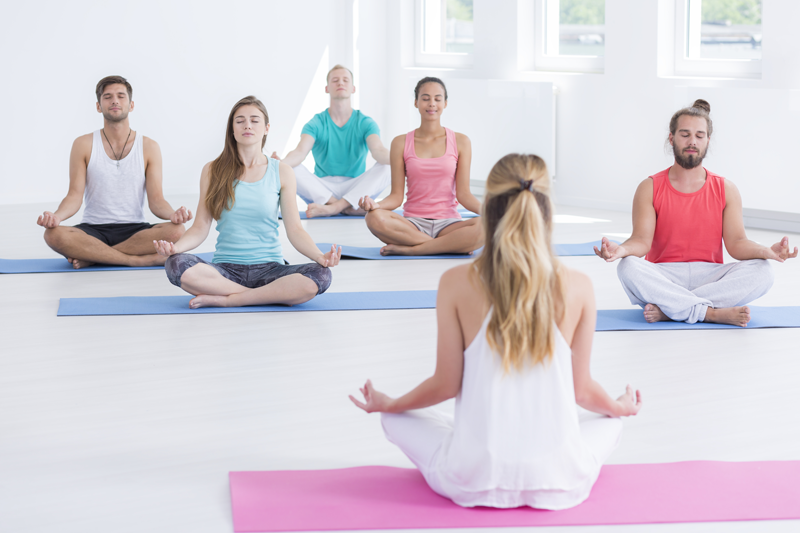 A good teacher will be able to use their intuition to determine if they need to adjust their practice to suit varying abilities or adjust their language so they can connect better with their students. What's more they should be able to do this without compromising on their overall objectives for the class.
Attention to Detail
A yoga teacher has a responsibility to their students to ensure that they are getting the most out of them, while ensuring that their health and wellbeing are not compromised. That means that regardless how big the class is a good yoga teacher should be able to watch their students and identify adjustments or improvements that need to be made.
Whether this is to make sure that no one is going to get injured, to help people improve their poses or determine the best way in which to get students to improve; a good yoga teacher will be aware of all of these things and be able to act on them.
Preparation
A good yoga teacher will always be prepared for class. They will be there to welcome students into an environment that is peaceful. They should also have a plan for the class ahead so that they are in control of the room and are clear about the objectives that the class will achieve. They will also ensure that they are around to talk to their students, so if they need to make adjustments to the class they have time to do so.
Physicality
Being a yoga teacher isn't all about being the best practitioner physically, but they do need to have a minimum level of skill to be able to teach students well. However if your yoga teacher does have great physicality then it allows you to really learn by example and see how the movements can be executed well. Just watching someone who has good physicality can help students learn and understand how their body should be positioned in each move.
Being a good yoga teacher is about these ten qualities and more. Yoga teachers are actually still students themselves who likely still have more to experience and evolve their practice, they are there to guide you on your yoga journey and to support you to be the best you can be.
When you're looking for a yoga teacher and class that you like it's definitely worth trying out a few different teachers to see what style suits you because finding a teacher that you really connect with can have a huge impact on your success and enjoyment of yoga.