With an endless list of health benefits for the body and mind, yoga is one of the most popular forms of exercise in the UK – especially amongst those looking for something less strenuous. With its rising popularity, new studios are popping up daily in the city. While new studios have their benefits, many people seek a reputable yoga class with an established foundation. In this article, we explore some of the best yoga hotspots in Southampton. Before joining a new class, it's worth picking up some good quality yoga clothes. For comfortable support, we recommend the Ana Heart Sports Bra.
Southampton Yoga Classes
Located in the heart of the city, Southampton Yoga Classes are popular throughout Southampton. Dedi-cated instructor Meeta brings a disciplined and dynamic approach to each of the sessions, making them perfect for those hoping to improve their health and vitality. Including a mixture of motivational chants, breathing exercises, and physical yoga postures, Meeta's classes help to create strength in both the body and mind. Each of the sessions runs for one hour, allowing enough time to really focus on the craft. Meeta welcomes practitioners of all abilities, even complete beginners! Novices can start off with some simple stretches, while experienced yogis can challenge themselves with something more complex. If you are hoping to lose weight, tone up, strengthen your core muscles, or even aid a chronic health condition, Southampton Yoga Classes may be the perfect fit. Typically, the studio runs three classes per week. To ensure that each student receives the appropriate level of attention, class sizes are kept to a minimum. With this in mind, we advise booking your place beforehand to avoid disappointment.
Location: 23 Pentire Ave, Southampton SO15 7RT, UK. Time: Various sessions available. Price: Drop-in £9.00.
In Balance Hot Yoga
Family run studio, In Balance Hot Yoga, is another favourite in the city. Husband and wife, Benedita and Ian strive to offer the people of Southampton a 'challenging and powerful yoga style that speaks to the heart'. When they first opened In Balance, the studio only had 2 weekly classes; today, the business provides over ten different sessions every week. The studio is located on the top floor of the cinema Harbour Lights Picture House. The serene atmosphere and breathtaking views make it the perfect space to unwind after a stressful day.
Specialising in hot yoga, the studio enjoys teaching the traditional Bikram style. The standard classes in-clude a set series of postures with two different breathing exercises. The posture series consists of 26 Hatha asanas. These simple poses are designed to strengthen and stretch the muscles. Alongside the asanas, two different breathing exercises will be introduced, too. If you're interested in the benefits of the Bikram style, book yourself in for a session at In Balance Hot Yoga.
Location: Harbour Lights Picturehouse Southampton. Time: Various sessions available. Price: Drop-in £14.00.
The Yoga Sanctuary
The Yoga Sanctuary is another yoga hotspot in the city. Located in the family home of its founder, Steve Harrison, the dedicated space offers a welcoming atmosphere to release stress and tension. First opening its doors 18 years ago, the studio has become a hub of energy and inspiration over the years. Welcoming practitioners of all abilities, Steve ensures each class is tailored to the needs of each individual.
From the very beginning, the Yoga Sanctuary has had two clear goals. The first being 'to offer authentic yoga training for those who wish to transform and uplift their lives and the lives of those around them' and the second 'to serve as a support system for home practice with online resources to assist all students in maintaining a daily practice'. In each of their classes, the studio teaches the authentic techniques of yoga, in addition to teaching students how to incorporate them into daily life. In addition to their regular classes, the Sanctuary offers an array of teacher training programmes and intensive retreats. If you are interested in learning the traditional practice in the serenity of India or Europe, visit the Sanctuary website for information on their upcoming retreats.
The Yoga Sanctuary use a system they refer to as 'Living Yoga' in each of their classes. Best explained as a complete system of yoga, the practice teaches more than just the physical postures. Ideal for those who strive to live a more conscious, healthy, and blissful lifestyle, Living Yoga ensures that students can learn the holistic side of the practice, too. The Sanctuary ensures that you do not need to be flexible, spiritual, or peaceful to begin your training; they only thing they request is a since wish to grow and fulfil your highest potential.
Location: 26 Thornbury Avenue, Southampton, SO15 5BR. Time: Various sessions available. Price: Block of 10 sessions £85.00.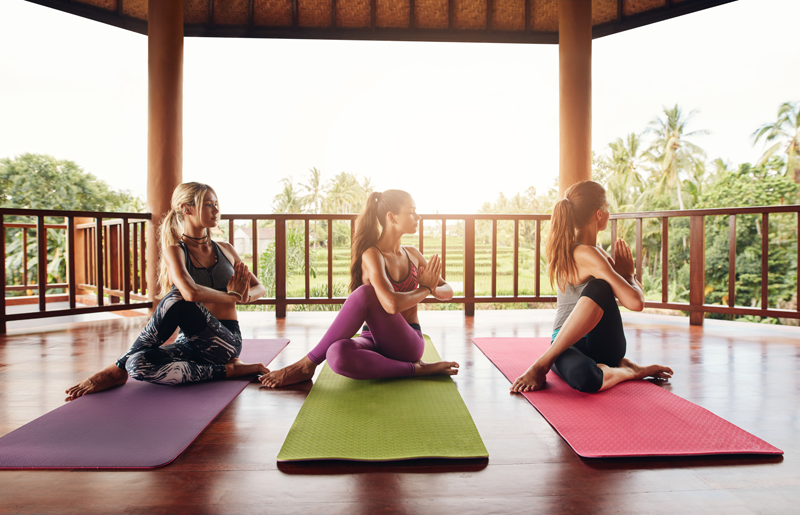 Laura Green Yoga
Experienced yogi Laura Green is more than just a yoga teacher. Founder of Soul Retreats and Soulfest, and also Director of Laura Green Training and Mentoring, she strives to teach the healing powers of yoga to each of her students. Laura provides a range of yoga classes, workshops, and retreats, with the helping hand of her dedicated team.
Most of the sessions at Laura Green focus on a specific style of yoga. With the choice of Vinyasa, Restora-tive, and Yin Yoga, find a class that tickles your fancy and give it a try. Also trained as a Thai Yoga Massage Therapist, Laura incorporates massage elements into her teaching. Encouraging the muscles to relax on a deeper level, the massage techniques are ideal for those looking to wind down after a busy day. The studio offers a mixture of drop-in sessions and bespoke 6-week courses. While the drop-in option is ideal for those with prior experience, the bespoke 6-week course is perfect for novices looking to learn the basic techniques. Currently, Laura is offering newcomers their first class free. Register on her website today to take advantage of the offer.
Various times, prices, and locations across Southampton – visit her website for further details.
In Summary
Whether you're interested in a homely session at The Yoga Sanctuary or you're more interested in the breathtaking views up for grabs at In Balance, our hand-picked selection of studios above has something for everyone. To prevent injury, it's important to keep your muscles warm before each session. With this in mind, it's important to wrap up warm – especially in the colder months. For a snuggly option, we recommend the Ana Heart Hoodie.