If you're looking for a way to enhance your yoga practice, music could be it. Data suggests that 3 out of 4 people like to practice yoga with music. Interestingly, most of the participants surveyed practised yoga at home, which is the perfect environment to create and play your own playlist. Additionally, most of the participants said that they practice for between 30 and 60 minutes. So, it's pretty clear that many yogis enjoy listening to music as they move, but what sort of music are they listening to? In this article, we explore what music you should listen to during your yoga session. If you want to use music with your practice, choose a soundtrack, put on your yoga bra and hit the studio.
Why Should You Listen to Music?
As yoga is traditionally a spiritual practice, many people think you should practice in silence. However, yoga is less about outer silence than inner silence or inner-stillness as many people refer to it as. One of the founding fathers of the yoga philosophy, Patanjali, defines yoga as "Yogas chitta vritti nirodha". When translated, this means that yoga is about stilling the mind. According to Patanjali, practising yoga can calm the fluctuations of the mind. This creates mental stillness which allows you to experience life to the full, without becoming distracted by thoughts or judgements. Some yogis refer to this process as turning inward or coming home to your body while the mind is quiet. Practising yoga is a great way to let go of stress, turn inwards and feel connected to your inner self; and this is something that music can help with.
Rather than distracting us, music can help us to turn inward. It can help us to get into the physical and mental flow needed to achieve inner peace. So, in this way, music certainly doesn't detract from the purpose of yoga. Playing your favourite music to support your practice may be different from how Patanjali intended yoga to be centuries BC, but so much about the world around us has changed since then. Many practitioners have broadened their horizons and now practice yoga with music.
What Music Should You Listen to?
Meditation Music
The data shows that around 70% of practitioners listen to meditation music as they practice. Relaxing and rejuvenating, meditative music is a popular choice in yoga studios worldwide. If you're looking for some instrumental tunes, we recommend checking out the artists Deuter and Liquid Mind.
Traditional Indian/Devotional
36% of yogis listen to traditional Indian/devotional music as they practice. With traditional yogic roots, this type of music is popular amongst yogis who want to keep things authentic. This type of music can easily be played via streaming services like Spotify and Apple Music.
Indie/Alternative
26% of people listen to Indie/Alternative music as they work out. This style of music is known for its contrast to the mainstream, chart tunes. Indie tracks typically have a heavy beat, making the music ideal for yoga flow sessions like Vinyasa classes. If you're looking for artists to inspire your faster-paced yoga practice, we recommend Coldplay, Red Hot Chilli Peppers, Twenty One Pilots and Grouplove.
Classical
15% of yogis listen to classical music as they practice. This type of music is known for positively stimulating the brain and producing a relaxing effect. One of the main reasons people use yoga is for its calming benefits, so Classical music complements this perfectly to magnify the effects.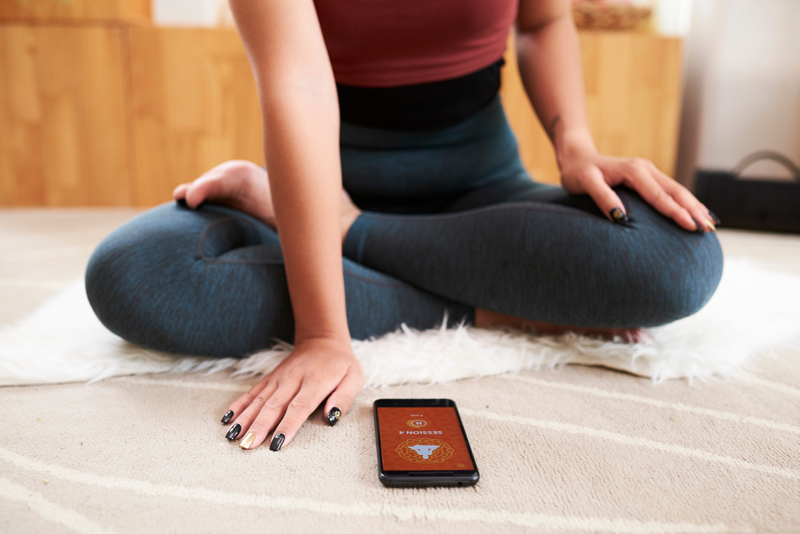 Pop
9% of practitioners listen to pop music in the studio. Popular artists include Lady Gaga, Beyonce, Taylor Swift and Ariana Grande. Pop music usually has an uplifting beat, making it ideal for morning yoga sessions before heading off to work. Pop music is particularly popular with teen practitioners, with many of them suggesting it has uplifting and mood-boosting qualities.
Folk
8% of yogis listen to folk music in the studio. Interestingly, many people find folk music inspirational. A few popular folk artists are Leonard Cohen and Bob Dylan. If you want to combine your Hatha or restorative class with a folk tune, give their music a whirl.
R&B/Soul
R&B and Soul was another popular category, with 8% of yogis playing this while in the studio. This style of music is soulful with a feel-good nature. Some popular artists in this category are Alicia Keys, Stevie Wonder and Erykah Badu.
Electronic
7.5% of practitioners listen to Electronic music as they practice. Popular in gyms and fitness classes, electronic music gives the yoga studio a dance floor vibe. Popular artists in this category are The Chainsmokers, Calvin Harris and Robin Schulz.
Jazz
The final category that came up in the survey was Jazz, with 7% of yogis using it in the studio. While Jazz is used by a few people, it's certainly not as popular as the Meditative, Traditional, or even Indie music. Other music genres that aren't very popular with yogis include Country, Drum and Bass, Grunge, Punk, Latin, Metal, and Rock.
In Summary
On average, 3 out of 4 yogis enjoy listening to music in the studio. As well as keeping you motivated, the right soundtrack can help you turn inward and connect with the practice on a deeper level. If you've got your favourite soundtrack playing, you may feel more motivated to slip on your yoga hoodie and hit the studio. 1 out of 4 people prefer to listen to the natural sounds around them and use the sound of their breath to help them focus. If you're wondering whether music could better your practice, give it a try! If you don't like it, try a different genre or retreat to natural sounds. In terms of the music you should listen to, the choice is yours. If you're drawn to a certain style of music, try it out and see what happens. If you're looking for some ideas, choose from the popular categories above.