Currently, Instagram is one of the most popular social media platforms – and for good reason! Not only does the app allow us to share our lives in picture form, but it also keeps us up to date with our favourite friends, family members, and influencers. While our non-yogi friends fill their profile with selfies, yogis use Instagram to share knowledge and inspiration.
Whether you're looking for inspiration, how-to videos, or a recommendation for a new yoga hoodie, these yogis have got you covered. In this article, we explore some of the best yogis on Instagram.
Laura Sykora – @laurasykora
The first yogi on the list is Laura Sykora. According to her feed, Laura's passion for yoga stemmed from a Baron Baptiste Power Flow Yoga video on VHS. With over 900,000 followers, Laura is now a wife and mother who uses yoga to find peace in her hectic schedule. Alongside her Instagram account, Laura co-runs Two Fit Moms, a website she started with her best friend and fellow yogi, Masumi Goldman.
According to her followers, Laura is loved for her commitment to daily practice. Despite having a busy life, she posts inspirational images of her practice each day. On top of that, she regularly partakes in Instagram yoga challenges to entertain and inspire her followers.
Brian Miller – @brianmilleryoga
Before taking to the yoga mat, Brian Miller spent 15 years boxing. After giving yoga a try, he realised how the practice could change his life and opened a studio in his home in Montreal. Today, he uses his platform to teach yoga online.
Brian's followers love his simple teaching style and inspirational attitude. When it comes to difficult yoga poses, he doesn't sugar coat them. He has no issue with letting his followers know the pose is tricky but goes onto explain how to overcome the struggles. With each video, Brian reassures his followers that it's ok to not get things right. According to Brian, a yoga pose should never be an end goal; instead, it should be viewed as a key to open the door to something new.
Caitlin Turner – @gypsetgoddess
Caitlin Turner is known on Instagram as Gypset Goddess. According to Caitlin, the name is a combination of the "gypsy" and "jet set", which sums up the nature of her platform. Though she's based in Arizona, Caitlin spends more time travelling the world to teach yoga and snap images.
As you'd expect, Caitlin's followers adore her gorgeous travel images and unique fashion sense. While her yoga images are informative, they're more about entertainment a lust for life. Every day, Caitlin posts a new yoga image in a unique location. With the world at her fingertips, you never know where she'll pose next!
Kathryn Budig – @kathrynbudig
Kathryn Budig is the yoga expert at Women's Health Magazine. In her spare time, she writes for publications like MindBodyGreen, Gaiam and Yoga Journal and shares her passion with her Instagram followers. Her Instagram is based around her passion project, Poses for Paws, a non-profit organisation that uses yoga to raise money for animal shelters.
Kathryn's followers love her adorable dog photos and happy-go-lucky attitude. Instead of instructional videos, Kathryn posts quirky images centred around Poses for Paws.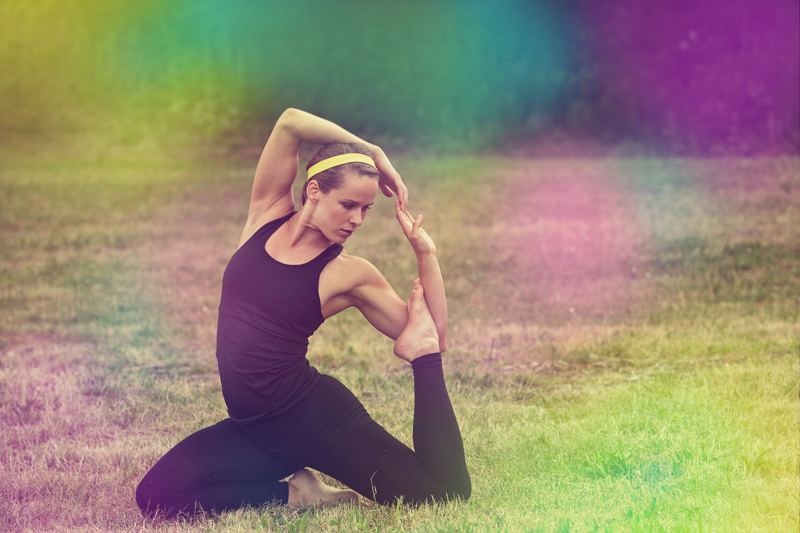 Taylor Harkness – @tjhark
Taylor Harkness is a yoga instructor who likes to have fun on the mat. His classes are known for their upbeat and inspiring nature and his students confirm that they never leave without a smile! In his spare time, Taylor enjoys rock climbing and sharing his yoga knowledge on Instagram.
Taylor's followers love his gentle personality and insane flexibility. Many people assume that guys aren't flexible enough for crazy poses; however, Taylor certainly proves them wrong! His feed inspires followers to practice tricky asanas with an upbeat and down to earth attitude.
Kerri Verna – @beachyogagirl
Kerri Verna is known as the yoga instructor who teaches on the beach. As a mum of two little boys, Kerri understands the importance of staying fit. This value has led her to complete five different fitness certifications, including Yoga, Pilates, and Personal Training. When she's not teaching, Kerri uses Instagram to showcase her yoga poses practised on West Palm Beach.
Kerri's followers adore her beachside images and vibrant personality. In her images and stories, she oozes positivity as she works through difficult group poses. Despite the advanced nature of the poses, she makes each pose seem achievable and rewarding.
Carson Clay Calhoun – @carsonclaycalhoun
Carson Clay Calhoun is a yoga instructor and movement enthusiast. According to his feed, his passion for yoga was kickstarted by his mum. In his yoga classes, Carson brings together several disciplines and incorporates everything from Indo Board Balancing to yoga dance.
Carson's followers love his yoga expertise and hilarious personality. In his spare time, he uses Instagram to showcase his stand-up comedy, beatboxing, and, of course, yoga. With Carson on your feed, you'll never be at a loss for entertainment! Or inspiration for that matter.
Honza & Claudine Lafond – @yogabeyond
The final yogis on the list are Honza and Claudine Lafond. The married couple is behind the popular Instagram account, YogaBeyond. On there, they inspire followers with their AcroYoga images and instructional videos. Originally from different parts of the world, Honza and Claudine were brought together by yoga and now share an undying love for the practice.
Their followers love them for their awesome AcroYoga photos and inspirational relationship. Together, the power couple travels the globe teaching AcroYoga. In addition to showing their insane yoga skills, the couple uses Instagram to showcase their teaching ability and super cute relationship.
In Summary
Whether you're hoping to learn a new pose or you're more interested in yoga fashion inspiration, the accounts above have got you covered. With images from YogaBeyond and Gypset Goddess on your feed, you may even be inspired to travel the globe! If you do, remember to pack your yoga top and document your journey with images. You never know, you could become one of the best yogis on Instagram!