The holidays are filled with festive cheer, family time and mouth-watering feasts. However, many of us still find the time stressful and overwhelming. Searching for that perfect gift or trying to prepare a Christmas dinner can make us feel stressed, worked up and a just a little down.
Thankfully, yoga can be used to counteract this stress. While putting on a yoga top during the holidays is a little harder, it can easily be done with the right preparation and mindset. In this article, we explore how to maintain your yoga practice during the holidays.
Set Your Intention
Setting an intention before the holidays can help you to prepare for the disruptions to your routine. Think about where you'll be and who you'll be with, as well as any personal challenges you can see. Think about exactly why you are practising and what you want to achieve each day. Your intention could be as simple as to feel relaxed, to be positive or to express gratitude.
At the start of each day, remind yourself of your intention. Once you remember why you're practising, you should feel more compelled to step on the mat.
Determine the Most Important Aspects
Once you've set an intention, consider the most important aspects of your practice. Realistically, you probably won't have as much time during the holidays as you do usually. Understanding this will help you to choose the most important components and fit them into a ten or twenty-minute session. To determine the most essential parts, think about what helps you most in your regular sessions. You may have a few asanas, pranayamas or meditation practices that work wonders for you. If these align with your intention, include them in your holiday routine. If your intention is to relax, you might practice a couple of restorative postures followed by alternate nostril breathing and a short meditation. Likewise, if your intention is to feel energised you may practice some sun salutations followed by a strong standing posture and bellows breath to boost your energy.
Set Up Your Space
If you're travelling over Christmas, set up your yoga space as soon as you arrive. Explore your surroundings to find a suitable space and get settled in. Roll out your yoga mat or set up your meditation seat to give yourself a subtle reminder each day to practice. If you're unable to leave out your mat, don't panic. Still take time to find a place to practice each day and try your best to make the time.
Plan Ahead
During the holidays, making a practice schedule will encourage you to practice. However, it's important to have a backup plan for times when your practice doesn't fit into the allotted time. With the busyness of Christmas, you may realise that your schedule was not as realistic as you expected. Or you may find that the sessions you planned aren't what you need. This is when it's important to be flexible. Try your best to go with the flow and do whatever works for you and your family.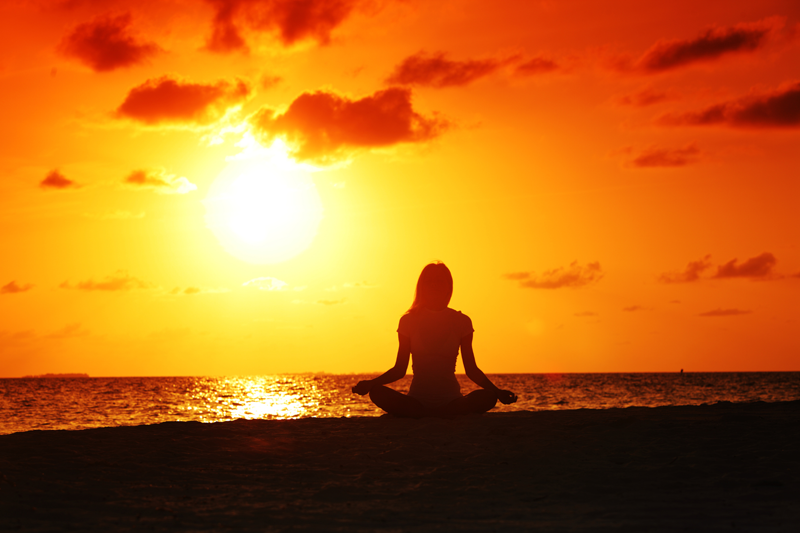 Invite a Loved One to Join You
Practising yoga with a partner can encourage you to hit the mat during the holidays. If you're travelling, who are you going with? Consider asking them to join you on your yoga journey. If they're new to yoga, explain the benefits and how the practice works. If they'd rather not, consider recruiting them as an accountability partner. Share your desire to practice with them and explain why it's important to you. This way, they can encourage you to practice through the festive season.
Start as You Mean to go on
Procrastination is a real problem, particularly during the holidays. To avoid the temptation to procrastinate, jump into yoga on the very first day. You don't have to practice a full routine; if you're strapped for time, you could just set up your space and practice one sun salutation, or even sit and meditate for a few minutes. Meeting your intention on day one can shift the dynamics of the rest of the festive period.
Expand Your Definition of Yoga
To maintain your yoga practise during the holidays, expand your definition of yoga. If you're bored of your usual routine, think beyond asana, pranayama and meditation and open your mind to new practices. For instance, if you have faith, you may like to say a short prayer before going to sleep each night. Another unique yoga form is Seva, or selfless service. This reminds us of the universal nature of emotion, such as fear, loneliness or joy. Offering to help with cleaning or cooking, with kindness and an open-heart, builds bridges and fixes relationships. Svadhyaya, or self-study, is another unique yoga form. With this, we can reflect on common thought patterns to help us to savour positive moments or get us through difficult situations. During the holidays, consider spending a few minutes reflecting on the day's events and how they've made you feel.
In Summary
So, there you have it – how to maintain your yoga practice during the holidays. Above all else, yoga should be enjoyable. Try not to be too hard on yourself, particularly during the festive period. If you miss a day, don't panic. Your mat will still be there tomorrow. Christmas is an intense and stressful time of year, and the pressures of it can leave us feeling overwhelmed. If you're feeling stressed, try putting on a cosy yoga hoodie and working through a restorative sequence. When practised in the evening, this can work wonders at clearing the mind and preparing it for a restful night's sleep.