If you're feeling overworked, stressed out, or just generally out of sorts, a yoga retreat may be just what you need. Allowing you to relax and unwind in your favourite yoga top, a yoga retreat is a perfect way to revitalise the body and mind. But how do you find a retreat that's right for you? In this article, we explore exactly how to choose a yoga retreat.
Choose Your Location
The first thing to think about is your location. Yoga retreats are offered worldwide, so the world really is your oyster! We recommend choosing your favourite place or a place you're interested in discovering. Consider whether you're more of a nature lover or a city person. Do you prefer the mountains or the beach? If you love exploring arts, culture, and monuments, consider locations like Paris, Spain, or Tuscany. If you're drawn to a warm, sunny beach then consider places like Mexico or Hawaii. If you'd rather stay close to home, there are plenty of options in the UK. If you're stuck for ideas, search the internet for potential locations and see what catches your eye.
Choose Your Theme or Focus
The next step is to choose your theme or focus. What are you looking for in a yoga retreat? If you're looking for exercise and physical activity, there's no point booking a retreat based on life coaching and personal growth. The same applies vice versa. If you're looking for tranquillity but the schedule seems full of dynamic yoga sessions, keep searching for something that meets your expectations.
To choose the right retreat for you, consider what you want from the experience. For instance, are you looking to make new friends, get your life direction in order, lose weight, or let go of old emotions? Read the description of the retreat carefully before making your decision.
Set Your Budget
Before choosing a retreat, you'll need to set your budget. When thinking about the cost of a trip, it's important to factor in travel, accommodation, food and drink, and any other money needed for activities etc. If you find it difficult to budget, choosing a retreat with everything included may be your best bet. Certain companies offer package holidays where you pay a set price for everything you'll need. What 'everything' includes will depend on the package, but it often covers travel, accommodation, food and drink, and the cost of any classes or activities.
Choose Your Timing and Duration
The next thing to consider is the timing and duration of your trip. The duration of yoga retreats can range anywhere from 2 nights to 10 days. This flexibility is great as there is something to suit everybody. When choosing your duration, don't automatically assume that longer is better. Sometimes, a few days may be all you need to rest and recharge. Plus, a weekend retreat is much easier to plan at short notice. If you're feeling stressed, overworked, and burnt out, waiting months for your retreat may be out of the question. Booking a short, 2-day break can help to recharge your batteries and have immediate benefits.
Choose Your Level of Luxury
When booking a retreat, some yogis want a luxury, 5-star experience while others prefer something more basic. Whichever category you fall into, don't feel bad for it. This is your retreat. If you want a luxurious package, go for it! If you'd rather save a little money and go for something mid-range, that's fine too. If you're unsure about your preference, look at a few different retreats and see which ones stand out to you. Some people are drawn to 5-star centres with private decks and gourmet cuisine, while others may choose camping options to get in touch with the great outdoors.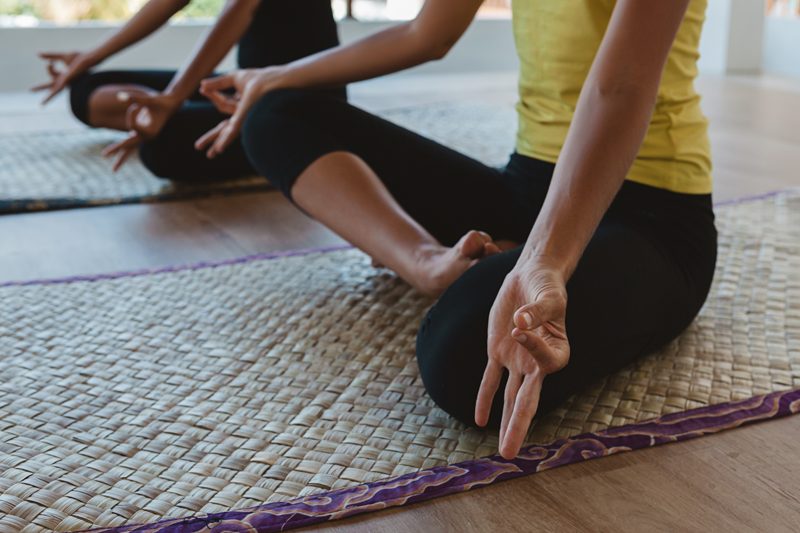 Choose the Size of Your Retreat
When choosing a retreat, be sure to ask about the minimum and the maximum number of guests. If you feel overwhelmed in large groups, go for something more intimate. If you'd prefer to blend into the crowd, choose a larger retreat. The activities can also be influenced by the size of the group, so keep this in mind when booking your trip.
Choose the Style of Yoga
Before booking your retreat, you'll need to choose which style of yoga you want. To do this, think about what your goal is. Are you looking to relax and unwind, connect with your true self, or burn calories and lose weight? If you're hoping to relax, choose a restorative yoga retreat. If you're hoping to shed some pounds, go for something more dynamic like vinyasa flow. You'll also need to make sure the level of yoga, be it beginner, intermediate, advanced, or multi-level, suits your needs.
Choose Your Teacher
The instructor or teacher can make or break a retreat. Before rushing into booking, do your research and make sure the teacher knows their stuff. Consider the experience they have with leading small or large group trips and don't hesitate to ask for client testimonials. If you already know the instructor, even better! You can then make an informed decision on whether you want to learn from them away from the studio.
Sign up Through an Organisation
When you're ready to sign up, your best bet is to book through an organisation that specialises in yoga retreats or mindfulness breaks. You can then rest easy knowing the groundwork has been done by people that know their stuff. Booking through an organisation will also filter out the rubbish and allow you to choose from a reputable selection.
In Summary
To choose a yoga retreat that best suits your needs, take note of the advice above. Above all else, remember that the trip is for you, and you alone. Think about what you want and give your body some much-needed downtime to relax and recharge. Once you've found the retreat for you, pick up some new yoga bras and get yourself booked in!