Whether you're an avid yogi or you're looking to try something new, yoga summer holidays offer a relaxing a revitalising break from daily life. But where are the best yoga summer holiday destinations for 2019? In this article, we go through some of our top picks. If any of them tickle your fancy, pick up some fancy yoga pants and get yourself booked in!
Boutique Retreat, Ibiza
Run by Lara Stapleton, Boutique Retreat is a stillness and alignment retreat in Ibiza. During your stay, enjoy gentle but powerful classes to bring balance to the body and mind. Guests can choose from two villas not far from Santa Gertrudis, each surrounded by pine trees and olive groves. In addition to daily yoga sessions, massages, guided walks, wellbeing workshops, and healing sound baths, guests can nourish the body with delicious, vegetarian meals.
Huzur Vadisi Yoga Retreat, Spain
On the outskirts of Abo De Gata National Park, Huzur Vadisi Yoga Retreat is a held in a stylish, bohemian villa. The decor of the main house is sleek and modern while the surrounding farmland offers a more traditional vibe. In terms of activities, some of the options include dynamic and restorative yoga sessions run by Gerry Kielty. During your stay, you can take advantage of the two natural swimming pools fed by springs as you enjoy the breathtaking views of the mountains and semi-desert.
Wild View Retreat, Portugal
Located in the foothills of the Algarve's Serra do Caldeirão, Wild View Retreat is held in a nineteenth-century manor house. The holiday is run by nutritionist and yogi Andrew Finlay and his partner Erika. During your stay, you can enjoy mindfulness classes, nutrition talks and demos, and guided walks, as well as three organic, vegetarian meals per day. If you'd prefer, opt for the nutrition detox retreat and cleanse your system with a juice fast. Not only will the juice and soup diet release toxins from the body, but it will also boost your immune system and leave you feeling great.
Ocean Views, Ireland
If you're hoping to stay a little closer to home, Ocean Views in Ireland is a great option. Boasting a glass-fronted yoga studio, outdoor hot tubs and a sauna, the retreat has everything you'll need for a relaxing break. Depending on your preference, choose between a yoga and hiking weekend; the latter offers 14km of walking along the scenic cliff tops. When it comes to food, sit back and relax while the in-house chefs prepare vegetarian food from the organic gardens. Instructor Michelle Moroney runs four different yoga and meditation classes, so you can either choose your favourite or give them all a go!
Summer in Santorini, Greece
If you're hoping to combine yoga with Greek sunshine, a holiday in Santorini will not disappoint. The southernmost of the Cyclades islands, Santorini is nothing less than luxurious. At Summer in Santorini, sit back and relax in a boutique hotel with a private pool, located just outside the village of Oia. In terms of yoga, there are two daily classes for all abilities, run by yoga instructor Louise Gillespie-Smith. Balancing gentle, mindful yin with creative, breath-focussed flow, Louise understands the concept of true relaxation. During your holiday, you can also enjoy other activities, including a 10-mile hike, sea kayaking, sailing, and wine-tasting. If Santorini is a little far to travel, Louise also runs holidays in the French Alps and the UK.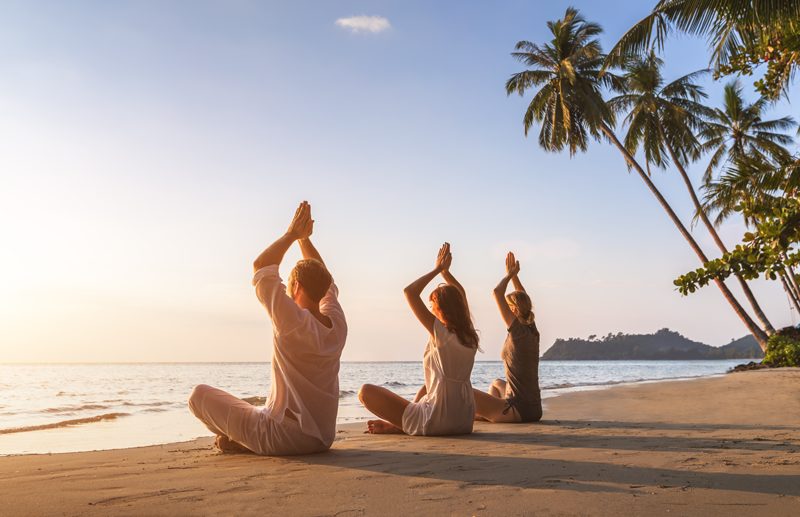 Value Your Mind, France
With Value Your Mind, you can practice yoga in a gorgeous villa surrounded by mountains and vineyards. The holiday is run by welding guru and former mental health nurse, Nathalie Kealy. During your stay, you can participate in two yoga classes per day and also enjoy wine tasting sessions, excursions to the beach and guided walks to remote villages. As the groups are small, there's no lack of personal attention with this retreat. In your downtime, take a dip in the swimming pool or relax in the hammocks before tucking into a healthy Mediterranean meal.
Weekend Retreat, New Forest
Set in the heart of the New Forest, Nova Milesko's weekend retreat offers expert tuition and great value for money. The retreat takes place in a converted barn on a farm near Lymington, where guests can enjoy ten yoga and meditation sessions with a focus on slow yin and flowing vinyasa. Each session is optional, so there is no pressure to squeeze all ten into the weekend. However, if you want to take advantage of Nova Milesko's knowledge, feel free to do so! Depending on your budget and preference, accommodation ranges from shared dorms to private rooms with a king size bed.
Yoga and Wild Running Retreat, Devon
If you enjoy both running and yoga, the Yoga and Wild Running Retreat is the holiday for you. If you go in the summer, the retreat is held at the High Nature Centre near East Portlemouth. If you opt for the winter break, however, you'll stay in a secluded farmhouse on the outskirts of Dartmoor. During the three-night holiday, you can enjoy both your passions in a beautiful location. Some of the activities include guided runs, daily yoga classes, talks on running and training with an industry expert, Ceri Rees.
Sardinia Yoga, Mediterranean
Sardinia Yoga runs yoga holidays at beachfront hotels in various Mediterranean locations. Some of the most popular areas are Croatia, Mallorca, and of course, Sardinia. Through the year, the company spends a minimum of three weeks at each hotel, so guests can arrive at any time and stay for as long as they like. There are two instructors at each venue who lead a balance of gentle and dynamic yoga classes. The price of the holiday includes a two-hour yoga session each morning, and there are plenty of afternoon and evening classes for an additional fee.
In Summary
So, there you have it – the best yoga summer holiday destinations 2019. Whether you're hoping to jet off to the Mediterranean or you'd rather stay close to home, the selection above has something for everyone. Before your trip, remember to pack your yoga bag with summer essentials. To avoid sunburn, cover your skin with a good-quality SPF and top up as required.