Yoga Wisdom: Warrior Tales to Inspire You on and off the Mat is a must-have book for your home or yoga studio. Written by Stephanie Spence, the book offers essential and uplifting advice that will help you take your practice to the next level.
Referred to as The Travelling Yogini, Stephanie is an experienced yoga teacher, mother and PTSD survivor. In her book, she explores what it means to connect with the soul and become our truest self. In this article, we explore Yoga Wisdom: Warrior Tales to Inspire You on and off the Mat in more detail. By the end of the article, you'll want to pack your yoga bag and head to the studio!
What Inspired the Book?
In an interview with ShutUpAndYoga, Stephanie explained that the book is inspired by her 4000-mile life-transforming Yoga Road Trip where she rediscovered and redefined her life. On her travels, she interviewed over 100 yoga instructors who shared how they used the practice to live a life of potential. Originally, Steph was video interviewing the instructors for her blog. However, it wasn't long before a theme emerged that was too important to miss: we all face challenges in life. All of the people featured in Stephanie's book have used yoga to move through the ups and downs of life with grace. Some of the challenges are big and some are incredible, but the featured yogis have all come out the other side with strength, confidence and self-love.
The book features a combination of Stephanie's personal journal entries and present-day interviews. Originally, she found it hard to find a literary agent that "got" her vision; however, she eventually found someone who not only got it but also wanted to be her agent. Steph went on to weave the metaphor of the journey throughout the book, using her collection of interviews and journal entries to create the path.
Did Stephanie Find it Hard to Bare All?
Containing personal journal entries, the book tells Stephanie's story in a unique and personal way. Sharing the intimate details of her journey was one of the hardest things about writing the book. During the process, she spent countless nights writing at 2 am, many of which ended in tears. Although she was terrified of opening the door to her soul, she realised that the hardest part was the judgement from other women about what it means to be a good mother and the perceived judgement from her abusers. She now knows that she is a good mother and understands that she always was. The critic in herself kept telling her that her words, voice and story weren't enough, but she battled through and reassured herself that she was. While it was a lot of work at the time, she's now free and feels so much better for it. During the writing process, she crossed over into a deep peace and realised that she was the only person able to break the cycle of abuse. Her biggest hope is that she can inspire people to take the leap of faith needed to claim a life of happiness.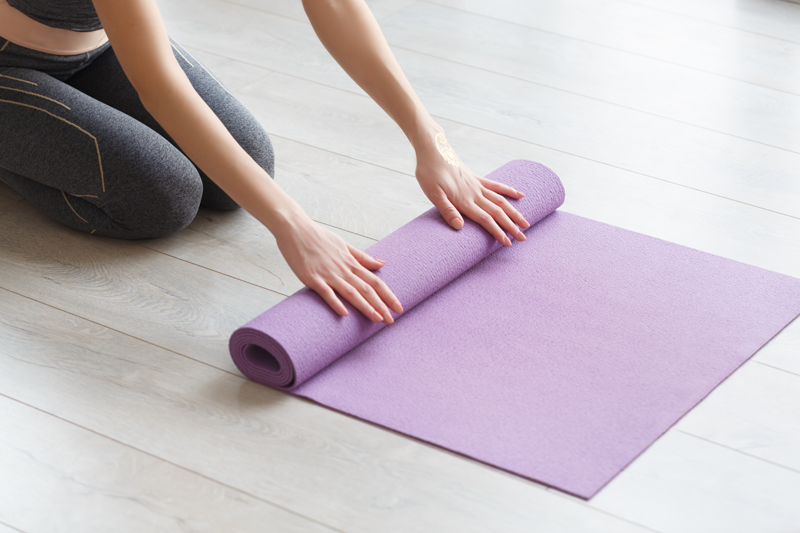 Yoga Heals the Heart and Soul
It's not just the body that yoga heals, but also the heart and soul. Whether you're a seasoned yogini or you're new to the practice, yoga is about you. Physically, it increases strength, flexibility and endurance. Mentally, it reduces anxiety, stress and helps you to find peace in a manic world. Spiritually, it helps you to reach your highest potential and live a life of gratitude and peace, regardless of what's happening around you.
In Yoga Wisdom, Stephanie has included the wisdom of 85 acclimated practitioners to enable readers to live a life of happiness. Including raw wisdom from leaders in the yoga community, the book will motivate you to live a life you love. Filled with personal, comforting stories, universal insights and practical tips, Yoga Wisdom will keep you on the path of balance, truth and authenticity in all areas of your life.
What Did Stephanie Realise When Writing?
In the book, Stephanie explains how she realised she needed to put an end to the generations of abuse that plagued her family. When she first saw a therapist, it was explained to her that they'd go back to the beginning in her sessions. At the time, she wasn't speaking to one of her abusers – her father – and she hadn't done for the past 25 years. She assumed that because the torment was behind her, it had nothing to do with her present life, emotions or mindset. However, she quickly realised she was wrong. She discovered that the abuse was still present in her life more than she understood and her therapist helped her to understand that she could be triggered back to her past emotions. It was then that she realised she needed to put an end to the cycle of abuse and finally let go of the pain. Thankfully, she was able to achieve this through yoga.
What is Stephanie Spence Doing Now?
Stephanie is currently working on her second book and planning her next Yoga Round Trip. If you're a fan of Yoga Wisdom, stay tuned for her next masterpiece!
In Summary
So, there you have it – Yoga Wisdom – Warrior tales to inspire you on and off the mat. If you haven't read the book yet, it's time to check it out. Including raw wisdom from 85 acclimated practitioners, the book will motivate you to live a life you love. By the end, you'll understand the life-changing power of putting on your yoga bra and hitting the mat.