Athleisure is definitely on trend just now with many women adopting it as their daily style. Athleisure can be described as casual, comfortable clothing that is suitable for exercise and every day wear. It's a great blend of fashion, comfort and practicality. Its versatility and ability to be worn all year round also make it a popular choice with women everywhere.
Yoga pants are part of this trend and fit the athleisure description perfectly, but they're often a topic of debate with some people believing that they should really only be worn for Yoga and not be part of everyday style.
It would appear though that more people are definitely in favour of wearing them as part of their everyday style given that sales of Yoga clothing are increasing year on year.
Yoga pants can be worn for anything from practicing Yoga and going to the gym to running errands and lounging round the house and they're so comfy who can blame anyone for never wanting to take them off!
Celebrities are also loving the trend with some going as far as to create their own lines of Yoga pants and many regularly sporting the look around town. There are definitely some fashion tips we can take from celebrities and their Yoga Pant wearing ways – whether it's their addition of accessories, a touch of colour or the fearless way in which they mix athleisure with high-end fashion there's a lesson for all of us on how to create a stunning yoga look.
In this article we take a look at 5 celebrities who love the Yoga Pant look and how they wear it and the top tips we can take away to rock the Yoga pant style ourselves.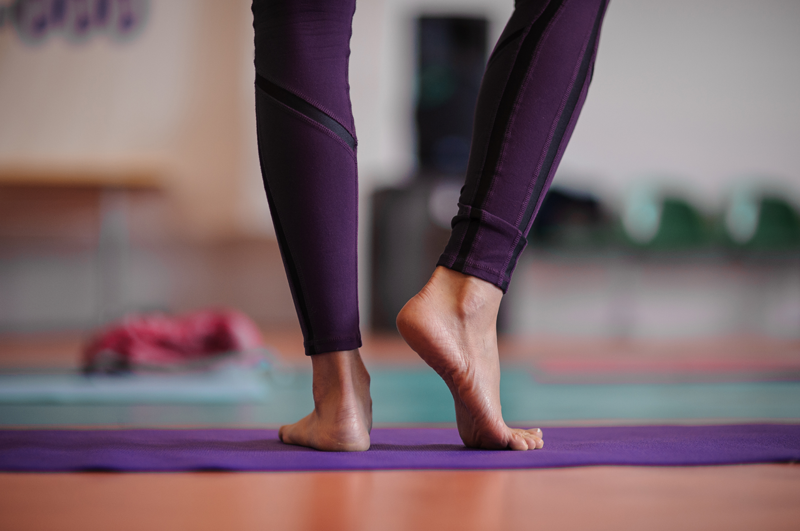 5 Celebrities that Rock Yoga Pants!
GiGi Hadid
The daughter of 'The Real Housewives of Beverly Hills' star Yolanda Foster, Gigi Hadid is now starting to make a name for herself. A sports Illustrated swimsuit model, catwalk diva and all round social butterfly she's really making a name for herself about town.
She's well known for being an ambassador of the athleisure trend and we probably couldn't even count how many pairs of yoga pants she owns given they are a key feature in her wardrobe! Gigi Hadid has been seen combining Yoga Pants with anything from a crop top and trainers to a stylish jacket and ankle boots, and she always makes it work making it look effortlessly sleek and sexy.
Alessandra Ambrosio
The Victoria's Secret model always manages to make any outfit look high-fashion and fabulous. Yoga is a big part of her life and she can regularly be spotted taking in a morning class, sometimes even with her children, which is super cute!
Alessandra has been seen wearing everything from bold printed Yoga Pants to sleek and sexy block colours and always manages to pull it off to perfection.
Kim Kardashian
Kim Kardashian is someone who you'd have found hard to miss over the past few years. As a celebrity who has "broken the internet" with her curves it's unsurprising that she's also rocked the Yoga Pant trend and shows that even if you are blessed with a larger bum you can still look great in figure hugging Yoga pants.
Katy Perry
Katy Perry is a pop music phenomenon and another regular wearer of Yoga Pants. She can regularly be seen out in them whether exercising or grabbing a smoothie. Given that over the years we've seen her dress in everything from a cupcake outfit to sleek evening gowns; it's hardly surprising that she's managed to create a style where Yoga Pants can look effortless and fashionable.
Mila Kunis
Mila Kunis always looks great and this is true even when she's wearing Yoga Pants. Especially during and after her pregnancy Mila rocked the Yoga Pant look and who can blame her given they're comfy and stretchy enough to wear with any bump. She provided fashion inspiration for mums- to –be everywhere!
Top tips to get your yoga look right
By now you're probably desperate to get your Yoga pants on and be effortlessly stylish; here are some top tips to help you do that.
Make sure you get a pair that is properly opaque – test them out in bright lights and be sure that they're not going to be see through.
Get correct size – it avoids pinching and the dreaded camel toe!
Watch out for VPL – it can spoil the smooth look of Yoga pants
Use layers – simply putting on a jacket will dress up your look. Gigi Hadid is a great example of this teaming Yoga Pants with a long purple trench coat for a more sophisticated look
Do invest in new pairs regularly –unlike denim Yoga pants don't age well!
Accessorize – Add a statement piece like a handbag or glasses to complete the look
Choose variety – there are lots of different styles of Yoga pants available from neutrals to bold patterns, change up your style daily with a few different pairs
Yoga Pants always look good with Trainers – your favourite trainers and yoga pants equal a perfect match!
Wear a statement top – a top with a slogan or sheer panel can completely transform your look. GiGi has been seen regularly wearing Yoga Pants and a sweatshirt with a playful saying to create a bold look.
Sometimes simplicity is best – a pair of high waisted Yoga pants with a crop top is simple but effective in creating a chic, sexy look.
Look for unusual styles – a statement pair can really make your look pop. From gold zippers to unusual motifs, there's something to suit everyone's style
The most important thing to remember is that Yoga pants are incredibly versatile and you can really have some fun styling them however you want to. So if you're running from Yoga to brunch then these tips will help you do it with style while still being comfy!