Today, more people than ever are practising yoga regularly. With an endless array of health benefits, including higher energy levels, reduced stress, and weight control, it's not hard to see why! In this article, we explore some of these benefits in more detail as we discuss reasons to start yoga in 2018. If you're interested in using the exercise, it's a good idea to pick up a lightweight yoga top before you begin.
Reduces Stress and Anxiety
Many people use yoga to reduce stress and anxiety. During the busyness of modern life, it's important to give your body time to relax and recharge. As the holistic therapy encourages your mind to completely switch off, it's the perfect way to achieve some much-needed R&R. Better still, many elements can be practised independently. Allowing you to exercise in the comfort of your own home, your practice can be slotted into a busy schedule.
While there are many ways to reduce anxiety through yoga, one of the most popular is pranayama. Best described as breathing exercises, pranayama can be used to help the body relax in moments of fear or anxiety. Taking a few minutes to focus on your breathing gives the body a chance to calm down before the anxiety escalates. One of the most popular breathing techniques is Yogic Breathing. Also referred to as rhythmic breathing, this technique can be used to regain balance and help you feel in control. Once you have calmed down, you'll be in the right frame of mind to make a rational decision about the best way forward.
In addition to combatting anxiety, breathing exercises can be used to reduce stress. Whether you're heading to an important meeting or you're trying to find last-minute childcare, sometimes, stress is inevitable. During these times, try using pranayama to calm the mind. After just a few minutes, you should feel more in control and ready to tackle the stress-causer head on!
Improves Fitness and Controls Weight
Though we all dream of a summer body, it often doesn't happen. However, you can still take control of your fitness and weight as we approach Autumn. To stay in shape, eating a balanced diet is important; however, regular exercise is another key factor. Fortunately, yoga can be used to improve your fitness level and tone your muscles. If you're already working out regularly, yoga can still be beneficial! If you're participating in a cardio-based exercise such as running or cycling, yoga can be used to increase your strength and stamina.
Today, most yoga studios run a number of different classes. Typically, each class will focus on a different style of the practice, so you should choose the style that best suits your needs. If you're looking to lose weight, try attending a hot yoga session. Practised in a heated studio, you can burn up to 700 calories in a single session. If that isn't quite enough, give vinyasa flow a go. Practised in the same studio, vinyasa flow classes are fast-paced and dynamic.
Encourages Inner Peace
Sometimes, the best way to deal with stress is to visit a peaceful, happy place. Unfortunately, this may not be possible if you're at work. Thankfully, yoga can help us to achieve inner peace without having to leave the workplace. Through meditation, you can learn how to calm a frantic mind in minutes. As meditation can be practised anywhere, you have the power to escape for a few minutes whenever necessary.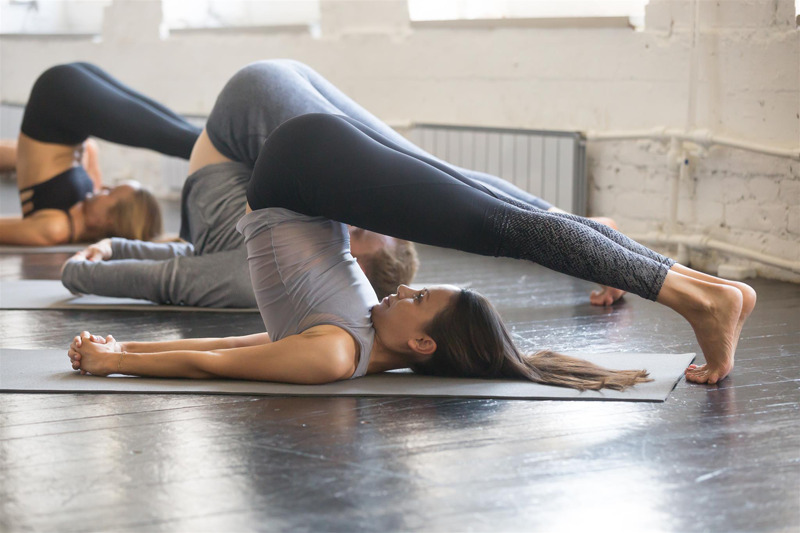 Improves Immune System
With the colder months upon us, we are all looking for ways to improve our immune system. While topping up on vitamin C can help, yoga can be far more effective if used correctly. Improving your lymphatic circulation, yoga can help you to avoid any nasty bugs that are doing the rounds. Through dynamic movement, we can help the lymphatic fluids to flow through the body. With this in mind, a fast-paced style such as vinyasa flow is best for improving the immune system. However, if you're unable to partake in this, any style with regular movement should be beneficial. For best results, introduce deep breathing to your practice to increase blood flow.
Boosts Energy Levels
By Friday afternoon, even the simplest of tasks can feel exhausting. Starting your day with 10 minutes of yoga can boost energy levels, allowing you to head off to work feeling refreshed and recharged – even on a Friday! If you're strapped for time in the morning, you may prefer to fit yoga in elsewhere. If you work in the city, you can probably find a studio within walking distance of your office. With this in mind, you could attend a session after work or even during your lunch break! If this doesn't work for you, try practising for a few minutes before bed. If you're hoping to wind down, try using restorative postures to relax the body and mind.
Improves Sleep
If you're suffering from insomnia, practising yoga before bed may help you to drift off. As well as helping you to fall asleep quicker, yoga can help you to stay asleep for longer and stop you from waking during the night. Research has shown that yoga can reduce insomnia is people of all sorts, particularly in pregnant women. During the third trimester, restful sleep can seem almost impossible. Fortunately, practising mindful yoga can help you to sleep better and wake up less during the night.
In Summary
Whether you're hoping to enjoy restful sleep or you're more interested in shedding a few pounds, start yoga in 2018 to achieve your goal. If you've got the time, sign up for a weekly class rather than practising independently. As well as learning from an experienced instructor, a yoga class will keep your practice consistent. Before your first session, pick up some yoga pants and a comfy tank top so you're ready to get started.