Although yoga classes are the most popular way to practice, some people find private lessons more appealing. Unlike standard classes, private lessons are practised with just one student and an instructor. Offering a one-on-one experience, private yoga brings with it a variety of different benefits. All you need to get started is a comfy pair of yoga pants and a good quality mat. In this article, we explore the practice in more detail.
What is Private Yoga?
Much of the time, private yoga is similar to a standard class. The only difference between the two is that private lessons are one-to-one, whereas standard classes are practised in a group setting. Teaching just one student at a time, private yoga instructors can focus on the yogi's individual needs. With this in mind, the class can take whatever direction the student and instructor feel is best.
Who Could Benefit From it?
Anyone can benefit from a private session. However, they are particularly beneficial for newbies looking to gain initial experience. On the opposite end of the scale, they are also great for experienced practitioners looking to improve their craft. With one-to-one support, private classes can help take your practice to the next level. Those with complex needs may also benefit from private tuition. When teaching a group of students, it can be hard for the instructor to focus on individual needs. With this in mind, those with additional needs may find group sessions frustrating. During private classes, however, the instructor can focus on these needs and adapt the class to suit the student. Below, we explore some of the benefits in more detail.
Benefits
Gain Initial Experience
Ideal for beginners, private yoga allows you to gain initial experience. If you're new to yoga, the typical class setting can feel overwhelming. If you've got no experience, it can be difficult to keep up with the other students – particularly if you're not very flexible. While flexibility will come with time, certain postures can be difficult to perform.
To avoid feeling uncomfortable and overwhelmed, beginners can take private lessons to get started. In a one-to-one setting, the instructor can demonstrate each asana personally and make sure the student understands. With this level of support, your form and flexibility will improve rapidly. Once you've got some initial experience, you may feel confident enough to join a group class.
Focus on Personal Goals
In a private yoga session, you can focus on personal interests and long-term goals. Instead of following the instructor in a group setting, a private lesson allows you to set specific plans and goals. These may include improved flexibility, strength, or meditation.
During the first session, your instructor will listen to your goals and put together a personalised routine based on this information. By the next session, you should have a clear idea of what you want to achieve and how long you should expect it to take.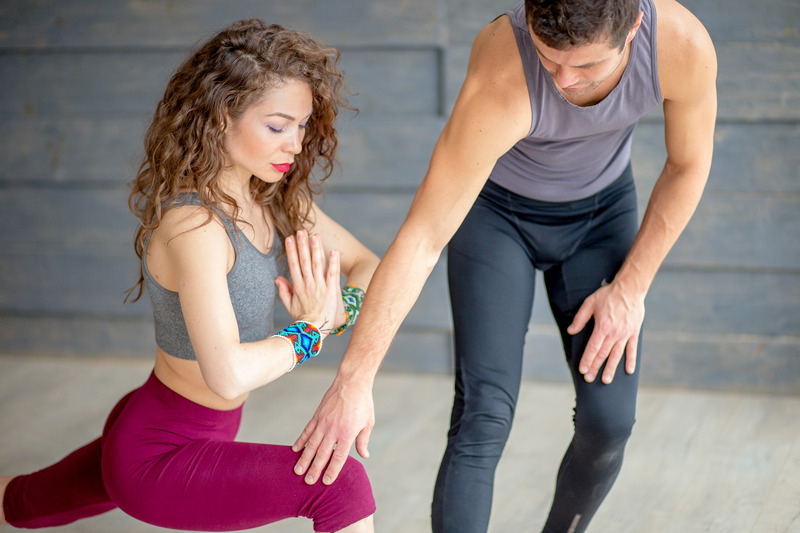 Work Around a Busy Schedule
While home-practice is better than nothing, you should ideally attend a weekly class. If you can't commit to a weekly session, a typical group class may not be the best choice. With a private session, your instructor can accommodate your hectic schedule and find a time that works for you. Better still, you can book the class for a different time each week. This means that you can fit the session around your personal plans and commitments.
Overcome Health Concerns
If you have an injury or health concern, you may find a standard class impractical. With several students to teach, the instructor has less time to focus on your individual needs. If you have a physical limitation, this can be frustrating. To keep up with the class, you may find yourself performing asanas that you know you shouldn't. Over time, this can cause further injury or strain on the muscles. Health concerns such as diabetes, heart disease, or pregnancy may also require special alterations. In these cases, a private session may suit you better. In a one-to-one setting, the instructor can work around the concern to avoid complications.
Develop a Plan for Home Practice
If you've got a busy schedule, fitting in a weekly class may be tricky. While private classes can be planned around your commitments, home-practice may feel more practical long-term. Independent practice is not recommended until you've worked with a professional, as practice without initial instruction can lead to injury. During a private yoga lesson, it's possible to create a routine that can be practised at home. Once you understand how to perform each pose correctly, you can practice at home without the worry of injury.
Work on In-Depth Practice
Although beginners can benefit from private classes, they can be great for advanced practitioners, too. During a private lesson, you can work with the instructor to take your practice to the next level. While advanced group sessions are available, they may not offer the level of challenge required by more advanced yogis. In a private class, you can develop a personalised plan to achieve your goals.
In Summary
With a number of benefits including flexibility and one-to-one support, private yoga classes can be used by yogis of all sorts. Typically, the class will be taught at the instructors home studio; however, most instructors will be happy to come to you, if that works better. If the session is being taught at your home, it's important to have the right equipment. Before your first class, be sure to pick up a good quality yoga bra and some comfortable clothing. Before your instructor arrives, set up your space and get a glass of water. This way, you'll be ready to start as soon as your instructor arrives.