London is full of amazing places to eat from highly rated restaurants, to delicious street food there really is something for everyone; but what if you want to ensure that you're health conscious on the go?
Well, there's no need to worry because London is also filled with cafes and eateries to tickle your taste buds while still providing you with clean unprocessed and nutritionally balanced food. Whether you're looking to pick up a healthy smoothie for breakfast, relax with friends and have post yoga Sunday brunch or you just fancy a little treat on the way home from work we wanted to share with you some of the best healthy places to eat in London to help you plan your next meal out!
Farmacy – 74 Westbourne Grove, London, W2 5SH
Based in Notting Hill, Farmacy is open from 9am until 11pm and serves breakfast lunch and dinner! Whether you're vegan, vegetarian or like to keep your diet free from dairy, sugar or additives they'll have something for you.
The menu has dishes that have taken their inspiration from all around the world, so there will definitely be something there to take your fancy, whether it's a beetroot Dahl inspired by Asian cookery, their take on pizzas and calzones from Italy or their Mexican bowl.
The best thing is that they even have your classic comfort foods, but just created in a healthier way. There's their signature "Farmacy Burger" and plant-based ice cream sundaes, so you can have a treat without feeling guilty!
Their ingredients are carefully selected from organic, local UK farms to ensure a great taste and of course make sure they are packed full of nutrients. All their menus are seasonal and dependent on the fresh local produce available, and this produce is combined to ensure every meal is nutritionally balanced.
They also offer a huge variety of snacks, cold pressed juice and even artisanal alcohol if you fancy a tipple! It's a great place to head to if you're on the go, but still want to make time to make healthy choices.
They're open Monday to Friday 9am – 11pm with various menus running depending on the time of day, so if you're in the area you should definitely check it out.
Bodyism – 222 – 224 Westbourne Grove, London, W11 2RH
Bodyism is a fairly new gym on Westbourne Grove that is built on the site of the old Post Office. It is one of the hottest places to be seen right now and one of the most difficult gyms to get into. In fact as soon as it opened it had to suspend membership for two months because of the sheer volume of applications, and with clients such as Emilia Clarke, Lara Stone and David Beckham reportedly attending it's understandable why.
The attached café which is called the Clean and Lean Café is the first area of the building you walk into and you can go in there and eat delicious clean, healthy food, have a shake or try their coffee, which is apparently one of the best cups of coffee you can get!
Their food philosophy is "be kind to yourself" and everything on the menu has a health benefit to it which they call 'nutritional nuggets'. The menu is not only gluten free, but also free from refined sugars and around 90% organic. This is to fit with their ethos of providing unprocessed, seasonal food that is delicious, and to finally put an end to the myth that healthy food can't taste good too!
They have shakes with names such as 'Body Brilliance' and 'Berry Burn' and their black coffee blended with organic butter and coconut oil has everyone talking, saying it is the best coffee they've ever tasted and worth its £3.50 price tag.
Even just going in there to breathe is good for you because they've installed air filters that boost the level of oxygen in the building and there's also special lighting that emits vitamin D!
They're open Monday – Friday 7am to 7pm and Saturday and Sunday from 8am to 6pm, so whether you're popping in for a coffee on your way to work, or fancy brunch after your weekend yoga session you'll be able to take advantage of their delicious offerings.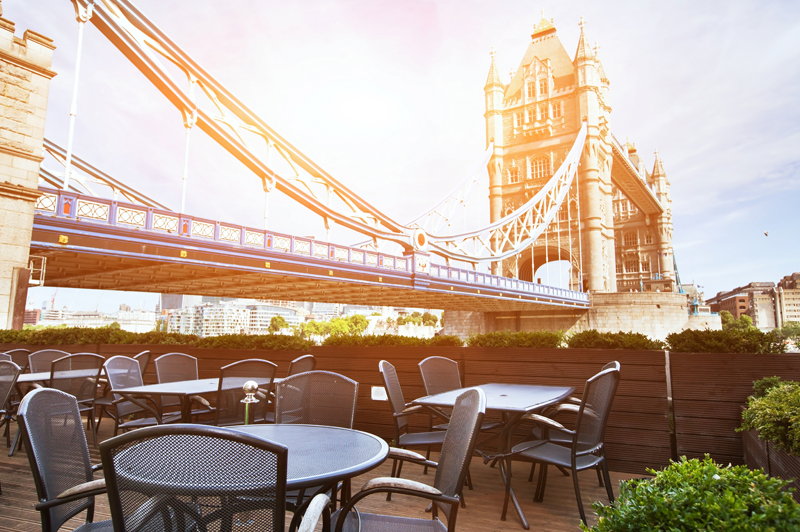 Good Life – Various locations across London
Established in 2013, Good Life wants to encourage everyone to eat, better, fresher and healthier with their delicious food options. With various locations around London including Chelsea, Marylebone Lane and Belgravia and catering to people of all ages, it's definitely worth finding your local café and going along for a visit.
All their products are made fresh every single day, to go with their ethos of keeping it clean and keeping it fresh. They use as much locally sourced product as they can so that their food is low on air miles and big on flavour. This also ensures that they are supporting local farmers while still ensuring their produce is the freshest and most organic where possible.
As the produce they use is also locally sourced this means that their menu changes regularly to take advantage of what's fresh and in season, but the menu includes items such as super food salads, warm bowls and sandwiches and wraps, which you can be sure will be packed full with healthy ingredients.
Good Life also believe in giving back and have established some incredible relationships with schools and community centres to help encourage everyone to strive for a healthier way of life.
Oh, and if you head in to one of their cafes don't expect to get free Wi-Fi, because they don't have it, instead they want to encourage discussion, or for you to take some time to read and relax, after all we know it's good to switch off sometimes!
Their stores have various opening hours, so it's worth checking out the one nearest to you when planning your visit and if you can't make it along in person they also deliver!
Juice Baby – 398 Kings Road, London, SW10 0LJ
The Juice Baby philosophy is "Little by little". They believe that all the little choices you make can add up to a big difference and therefore they encourage you to make small changes to your life, so you can enjoy the foods you love, but in a healthier way.
They suggest replacing fizzy juice with a natural cold pressed juice, substituting dairy with nut milks and processed food, for cleaner healthier unprocessed foods and then over time your body will stop craving those things and start craving more of the good stuff!
That doesn't mean that their food is boring though, their menu includes items such as a daily hot pot and a taco bowl which all look delicious.
Juice Baby makes healthy food accessible on the go. All their food is freshly made by hand and sourced from great quality produce to get you the most nutritional value. They also do this in a sustainable way, supporting local products, keeping things affordable and avoiding any unnecessary processes to ensure your food is fresh and healthy.
Juice Baby is open Monday to Saturday 8am to 7pm and on Sunday from 9am to 7pm, so is handy whether you're popping in after work for a juice to perk you up, or for a catch up with friends at the weekend.
That's our round-up of some of the healthiest places in London to get delicious food in London right now, with so many to choose from there's bound to be something that suits your lifestyle and nutritional needs, so next time you're out shopping just remember that these healthy choices are available and best of all they're delicious too!