Once upon a time, finding a vegan restaurant in London would have been a challenge. Today, the list is hard to narrow down! Better still, the amount of plant-based eateries is only expected to increase as time goes on. Eating a meat-free diet has a number of scientifically-proven benefits for both the planet and your health. Whether you're a long-term follower of the plant-based revolution, or you're looking for a healthy meal before your yoga class, London has a ton of options to choose from. With most of the restaurants offering large portion sizes, slip your leftovers into your yoga bag and enjoy after class. In this article, we explore the best vegan restaurants in London.
Mildred's, Various Locations
The first restaurant on the list is Mildred's. A popular vegan chain restaurant, Mildred's can be in enjoyed in various locations across London. The first establishment opened in Soho almost 30 years ago and has been popular amongst clean-eaters ever since. One of their many supporters is Blue Ollis, a blogger who is dedicated to veganism, minimalism, zero-waste living and holistic wellness. With her support, Mildred's have spread to Dalston, Camden, and King's Cross. In this restaurant, you can enjoy an array of Sri Lankan curries, halloumi burgers, and tasty desserts.
222 Veggie Vegan, West Kensington
222 Veggie Vegan is located in West Kensington. Not only is everything in this restaurant plant-based, but it is also low-fat, low-salt, and non-GM. However, they certainly don't skimp when it comes to flavour or portion size. If you're looking to enjoy a healthy lunch, try out their all-you-can-eat buffet; for the bargain price of £10, you can enjoy an incredible assortment of vegan food.
Rasa, Stoke Newington
If you fancy a curry, Rasa is the place to go. Found in Stoke Newington, the restaurant offers a range of vegetarian and vegan dishes from Southern India. One of the most popular dishes on the menu is the battered banana boli with a peanut and ginger dip. While this is intended as a starter, the restaurant will be happy to double up your portion for a small charge.
Comptoir V, Kensal Green
The next place on the list, Comptoir V, is popular amongst both vegans and meat-eaters alike. The menu features food from all over the world, with some of the most popular being their Middle Eastern and North African inspired dishes. If you're in the area of Kensal Green, Comptoir V is definitely worth checking out.
Wildflower, Peckham
Located in Peckham, Wildflowers offer some of the best vegan and veggie food in London. One of the most popular dishes on the menu is their 'vegan full English'. If this isn't your cup of tea, they have a range of other breakfast, lunch, and dinner options available, including a six-course vegan tasting menu. If this tickles your fancy, you can enjoy it for just £25 per person.
Fed By Water, Dalston
The next restaurant on the list is the popular Fed by Water. Located in Dalston, the restaurant offers a range of Italian dishes that focus on healthy eating. Their clean-eating approach runs so deep that they only use purified water – even during the cooking process!
Mooshies, Shoreditch
Located in Shoreditch, Mooshies is the place to go for a vegan burger. With everything on the menu being 100% plant-based, vegans can have their pick of the bunch. Better still, the process couldn't be simpler; pick a burger, load up on some delicious sides and you're good to go.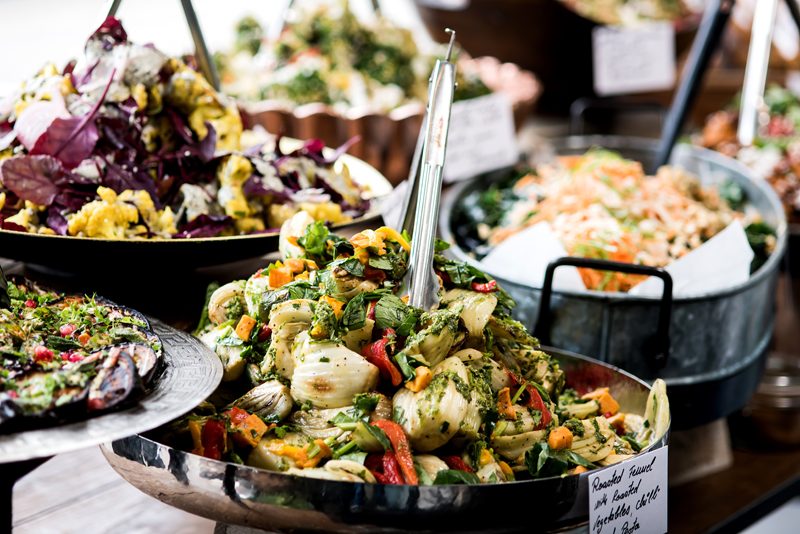 St Margaret's House Gallery Cafe, Bethnal Green
St Margaret's House is a charity hub located in Bethnal Green. In addition to its art and yoga classes, the establishment runs an excellent cafe. If you're passing by in the morning, enjoy a 'vegan full English' or a stack of fluffy pancakes with maple syrup. If you'd rather stop by for lunch or dinner, that's fine too! The Cafe is open 8am-8pm Monday to Saturday and 9am-6pm on Sundays.
Cafe Van Gogh, Brixton
Located in Brixton, Cafe Van Gogh is the next pick on the list. Vegan parenting blogger Emmeline Hundleby is a big fan of the cafe, claiming that it serves the best vegan Sunday roast in South London. The rest of the menu is filled with mouth-watering vegan dishes, with one of the most popular being their jerk plantain. In addition to offering top-notch grub, the eco-friendly cafe reinvests its profits into programs for the local community.
Young Vegans, Camden
Young Vegans is ideal for any vegans that are craving some not-so-vegan food. While everything on the menu is 100% vegan, they offer traditional English dishes such as hearty pies and sausage and mash. Located in Camden, the restaurant is open seven days a week. If you're ever regretting your decision to go plant-based, head to Young Vegans to satisfy your craving without the guilt!
Temple of Seitan, Hackney and Camden
If you're after something quick and easy, Temple of Seiten specialises in vegan fast-food. During the day, the restaurant is filled with customers enjoying the plant-based 'junk food'. When the night rolls around, they offer a selection of guilt-free dishes for vegans out on the town.
La Gelatiera, Covent Garden
La Gelatiera is the last, but certainly not least, pick on the list. After filling your belly with plant-based goodness, head here to enjoy some guilt-free dessert. Located in Covent Garden, the dessert restaurant offers a range of vegan gelato. If you're bored with traditional flavours, try out their vegan dark chocolate and chilli gelato – we promise you won't regret it!
In Summary
Whether you're a hardcore vegan or you're just looking for a healthy lunch option, the best vegan restaurants in London will not disappoint. Boasting a laid back and relaxed atmosphere, nobody will judge you for turning up in your yoga pants!