The athleisure trend is showing no signs of slowing down and it is popular with everyone, with many women adopting it as their daily go-to style. It's casual, comfortable and extremely stylish, taking you effortlessly from gym, to work or a catch up with friends. Celebrities have even been spotted championing the style, making it more glamorous and popular than ever.
Athleisure is a great mix of fashion, comfort and practicality, and by simply buying a few staple items you can create a capsule wardrobe that works for any occasion, while still looking great. There are also many other benefits too, with some highlighting that if you are dressed comfortably then you're more likely to be active all day long, because your clothes don't make it difficult for you to walk to work, run for the bus, or pop in for a lunchtime yoga session. This ability to be active off the cuff can generally help you to move more and in a world where we live very sedentary lifestyles this can only be a good thing.
As with any outfit you own you want to make sure that it brings you joy, that you feel great in it, and know that you can do everything you need to while wearing it. You want your outfit to help you achieve your goals for the day, not restrict you.
The Ana Heart Lifestyle Collection
At Ana Heart, we believe that clothes should be designed with the wearer in mind. All our clothes are made from great quality material that is flexible, comfortable and will make you feel incredible. We have created a Lifestyle collection in line with those beliefs and the collection allows you to be effortlessly fashionable every day. The Lifestyle collection offers items such as sweatshirts, joggers and t-shirts to wear in your daily life and below we take a closer look at just a few of these pieces.
Jackson Biker Jacket
A stylish jacket that you can simply pull on and head out is a wardrobe staple. This Jackson Biker jacket was created exactly for that purpose. It is fully lined and even has a front zip pocket for storing valuables such as your phone when you're on the go. With a biker fit, short back, shoulder pads and zip cuff it looks great dressed up or down.
Teamed up with a simple tee and yoga leggings, this look is effortless and is a favourite look of many celebrities when they're rushing between engagements, making an otherwise casual look a little more edgy.
Marley Sweat Pants
These sweat pants are great for when you need to be comfortable while on the move. Their slim shape with fitted rib ankle and draw cord waistband mean that they're they perfect fit, not too loose, and just right for doing anything from popping to the shops or heading to the gym.
The sweatpants are available in a variety of colours and the logo beautifully compliments these; with a sliver logo on the indigo pair and a gold logo on the white and black pairs.
The opportunities to wear these really are endless; they're perfect if you're travelling and want to be comfortable (we know jet setting celebrities love a quality pair of sweatpants!), great for lounging round the house in, heading to the shops, visiting friends for a casual get together and so much more.
Paired with a simple t-shirt or hoodie you'll look effortlessly stylish and well turned out!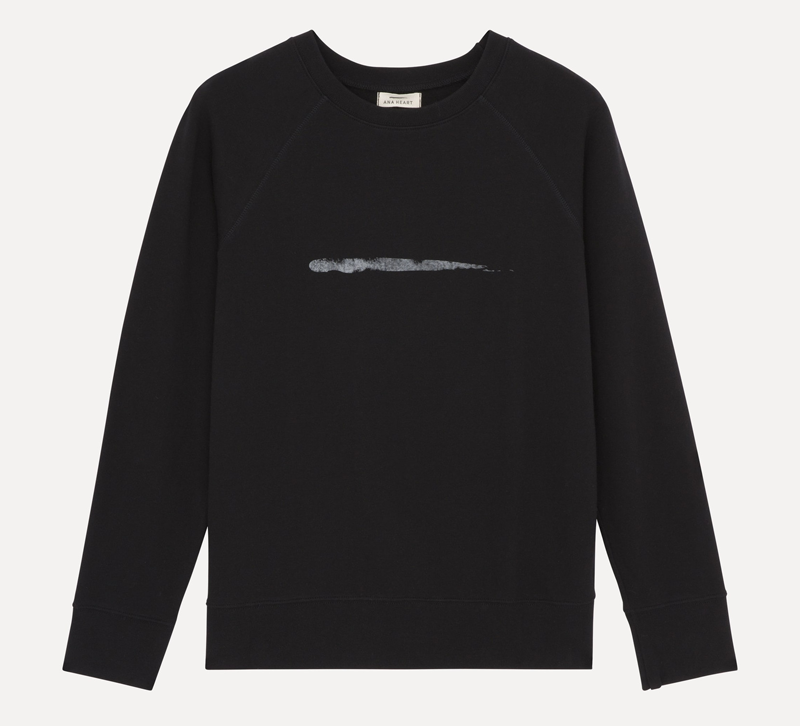 Jagger 2 Sweatshirt
Our Jagger 2 sweatshirt is incredibly comfortable and again is functional in many situations. It has a boxy shape, round neck, raglan sleeves and a grey line print, which just adds an extra touch of detail.
This jumper is a great pullover for after a workout, but equally looks stylish paired with some yoga leggings or skinny jeans for a smart casual look on a day out. The flash of grey detailing across the chest adds a point of interest and those small details are really what make this sweatshirt stand out from an ordinary pullover.
Cocoon Boho Hoodie
A hoodie is an absolute must have, and if you don't already have one then you need to get in on the trend! Ideal for wearing to and from Yoga to ensure that you don't get cold after you're cool down, or to pull on when you quickly pop out, a hoodie has endless uses.
Our Cocoon Boho hoodie with its V shaped neckline, long sleeves and front pockets even has some additional glamour thanks to the laces and eyelets on the side, adding a bit of variety to what might otherwise be a plain staple. This detail takes the style to the next level and means you'll stand out for the crowd.
The hoodie comes in a variety of colours with the indigo hoodie having a silver logo and the white version have a gold logo on it. It is intentionally oversized in style, making it great for relaxing in, or to use to get that layered look. The hood of course is great too if you're caught in an impromptu rain shower!
If you're still looking for some more inspiration then why not check out how celebrities such as Gigi Hadid, Mila Kunis and Kim Kardashian style their everyday outfits with a great mix of comfort and style using lifestyle clothing. Whether it's their use of a splash of colour, a statement accessory or their ability to mix casual with high-end fashion you'll be sure to get some tips from them on how to create a stylish look that works for you.
Whatever your style, the most important thing is that you find something that you're comfortable in, so you feel happy and confident strutting your stuff every day. We have a good variety of styles and colours for you to choose from, so you'll find something that suits your needs and you look great in. Our Lifestyle Collection is incredibly versatile and we hope you have some fun styling it however you want to. Whether you're going to Yoga, brunch or for a day out in town these clothes will allow you to do it in style while still being comfortable.